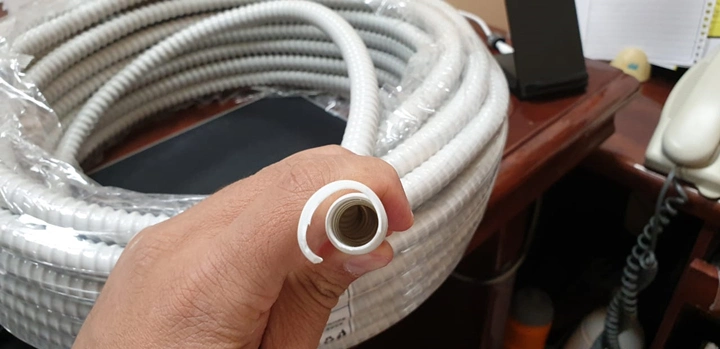 GENERAL DESCRIPTION
Flexible spiral
Made of polyvinyl chloride - (P-PVC), reinforced with a spiral made of polyvinyl chloride - (U-PVC).
Suitable for light mechanical loads.
Self extinguishing; flame retardant.
APPLICATION
Residential and industrial installations.
Infloor, wall mounted installations - Equipment manufacturing.
Air Conditioning drainage.
Connection with gland - Racor Courflex®
Fits with: Gland - Racor Courflex®, Watertight Boxes, Watertight External Elements IP 54.
PROPERTIES
Resistance to compression - (compression force) at 2±22ºC >320N/5cm
Resistance to Impact - (Weight mass / Fall Height) at 15ºC m: 1 kg/h: 100mm
Minimum temperature limit -20ºC
Maximum temperature limit +60ºC
Dielectric strength 2 kv/15 min
Insulation resistance >100MΩ
APPLICATION STANDARDS:
EN 2004/1-61386, EN 2004/23-61386
AVAILABLE COLORS:
WHITE, BLUE, BLACK
TYPE
DIMENSIONS
COLOR
U.M.
LENGTH
PACKAGING
EXT φ

mm

INT φ

mm

12
16
12
GRAY
M
30
30
14
16.3
13.9
GRAY
M
30
30
16
20
16.2
GRAY
M
30
30
18
21.2
18.1
GRAY
M
30
30
Related Product:


Our Factory:


QINGDAO EASTOP PLASTIC PRODUCT CO., LTD is a professional manufacturer and exporter of PVC flexible hoses, has over 14 years' experience of production and 10 years' experience of export. Our product range cover PVC layflat hose, PVC fiber reinforced hose, PVC steel wire reinforced hose, PVC helix suction hose, PVC garden hose, hose couplings, hose clamps, hose assemblies and so on, widely used in industry, agriculture and home, suitable for many uses such as Air, Water, Oil, Gas, Chemical, Powder, Granule and many more. All of our products can be produced according to PAHS, RoHS 2, REACH, FDA, etc.

Our factory is located in Shandong province, covering an area of 70,000 square meters and 10 standard workshops, equipped with 80 production lines, annual output is about 20,000 tons, annual export is more than 1,000 TEU. With strong technical force and strict QC process, we can supply quality products with competitive prices in the shortest time.

Till now, we have served more than 200 customers in 80 countries, such as UK, USA, Australia, Spanish, Colombia, Chile, Peru, Nigeria, South Africa, Vietnam and Burma etc. What we supplied to our customers is not only our products, we supplied a complete process, including products, after sales, technology support, finance solutions and so on. And we are constantly trying to search for new raw materials and manufacturing processes for our products to meet the updated satisfaction and expectations of our customers.
Certification:




World-Wide Customers: