20M Cable Self-leveling Drain Pipe Sewer Pipeline Inspection Camera
This is a Drain/Pipe Inspection Camera that comes with 23mm camera head, a 7inch LCD monitor with DVR, a 20/30/40m cable reel that is rotatable itself in the case, a heavy duty case that all parts included, etc. It can be easily pushed into a 45mm pipe and pass through 90 degree bends in a pipe.
It's widely used in Pipeline, Drain, Sewer, Duct, Chimney, Machinery and Building Inspection;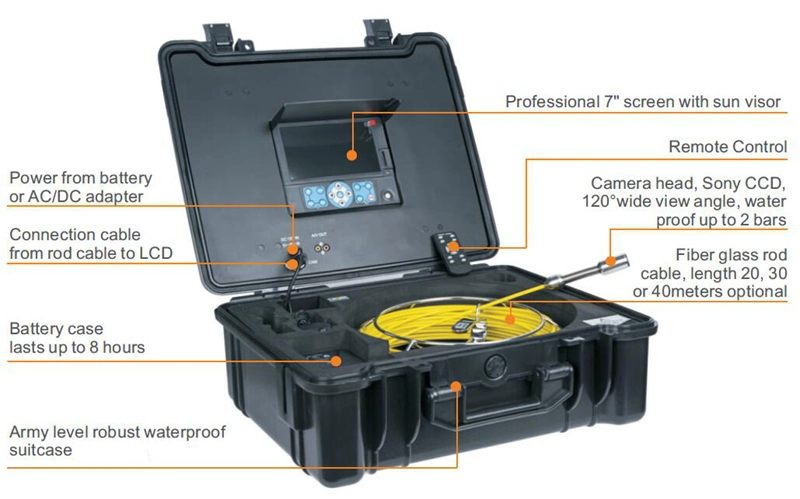 Specification of this new pipe inspection camera:
| | |
| --- | --- |
| Camera head | 23mm camera head |
| Meter counter | Optional |
| Text input/keyboard | Optional |
| Cable diameter | φ5.2mm push rod |
| Cable length option | 20m/30m/40m |
| Cable reel | rotatable |
| Monitor size | 7" LCD color monitor, with image rotate button |
| Camera head material | Stainless steel camera head, IP68 waterproof level, Sapphire glass lens cover, 12 high light white LEDs |
| Recoding function | available |
| Battery | rechargeable, work lasts up to 6 hours |
Optional features/parts:
| | |
| --- | --- |
| 23mm Camera head features: | With 512hz sonde |
| | Or with self-leveling feature |
| | Or with 512hz sonde and self-leveling feature |
| Optional camera head: | 14mm camera head for small pipes |
| | Or 38mm camera head for larger pipes |
All-in-One Video pipe inspection camera with 20/30/40m fiberglass cable and 7" monitor with DVR feature:
- 1/3" Sony CCD camera, 120°wide vision angle, 752H * 582V pixels
- Camera Size Φ23mm×45mm(head only)
- Sapphire glass lens cover, 12 white LEDs
- Diameter of camera:23mm, Focus Distance 20cm (approx)
- Water proof level, 20m underwater (camera fix on cable)
- Push cable dia. 5.2mm
- 7" LCD color monitor
- One push record button
- LED brightness control buttons
- Video image rotate button
- Support SD Card slot to store still pictures or videos
- With microphone for audio recording
- Rechargeable battery lasts up to 8 hours
- On-Screen date and time
- 20/30/40m fiberglass push rod
- Rotatable cable reel mounted in case for convenient operation
- Waterproof ABS suitcase with all parts included
What's included?
- 1 x 23mm Camera head
- 1 x 20/30/40m cable wheel
- 1 x battery pack
- 1 x remote control
- 1 x screw driver
- 1 x power adapter
- 1 x car charger
- 1 x waterproof suit case with monitor mounted

Packing details:
- Each unit in a professional tool case
- 1 unit in one carton
- Carton G.W.: 11.2-12.1kg (slight different for 20m, 30m and 40m unit)
- Carton Measurement: 55 x 25x 49cm
Battery Pack
Power Input: DC 9V-12V
Battery Capacity: 7.4V 6600mAh Li-on Battery
Power Output: 6-12V DC, USB 5V
Work/Charge time: 8 hours
Detail picture of this pipe inspection camera: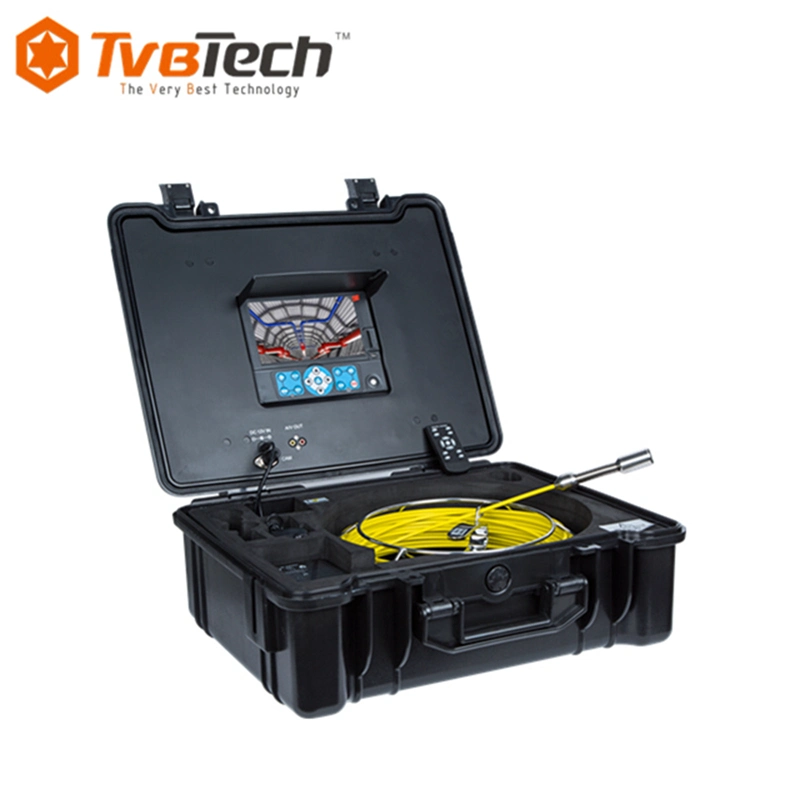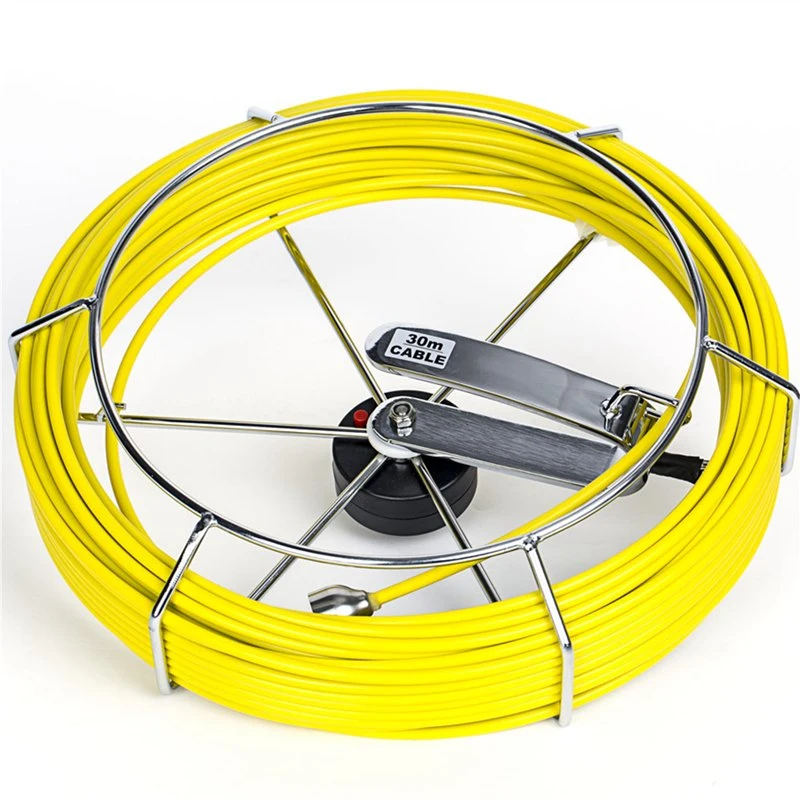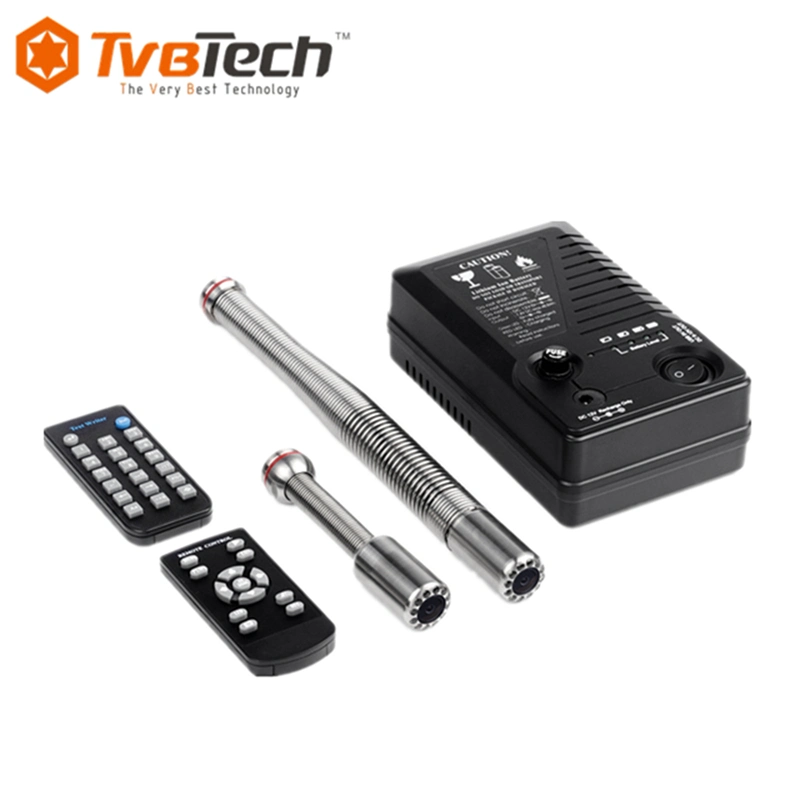 New pipe inspection camera in use: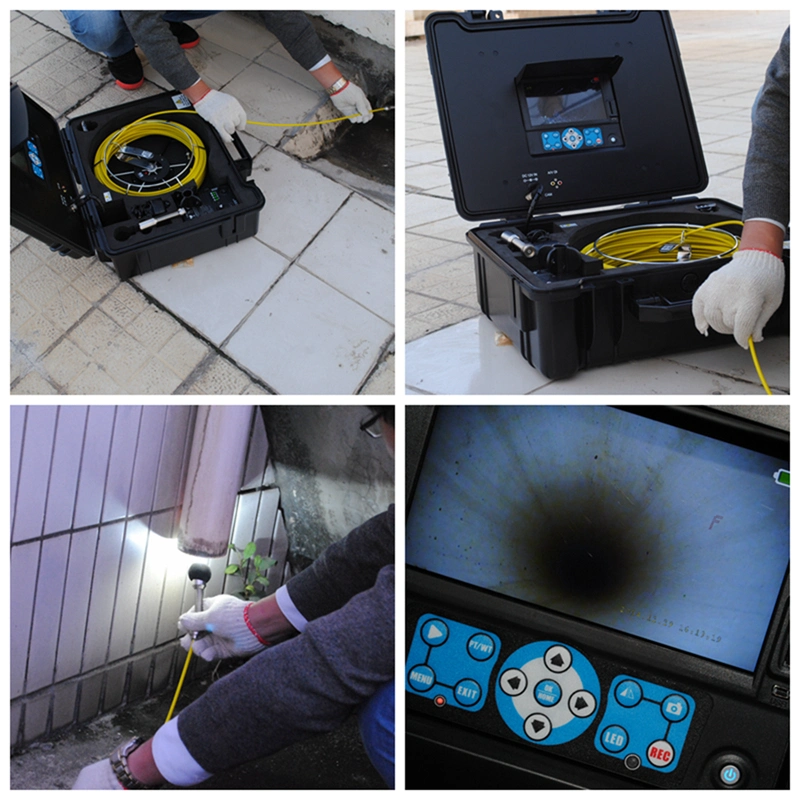 Related products:


Company information:
Established in 2008, TvbTech Co., Ltd. is specialized in designing, R&D, manufacturing and exporting of Inspection cameras. Our main products are pipe inspection cameras, camera locators, articulating video borescopes, etc. Everything we produce is in compliance with all FCC, CE, and RoHS & WEEE Directives.

As the leading manufacturer in this industry in Mainland China, we operate in a 1500 m2 factory located in Shenzhen. We aim to become a first-class provider of pipe inspection cameras with world-renowned quality and stability products, which strives us to keep investing and focusing on product quality control.

TvbTech has also already been recognized as a strategic partner of many OEM/ODM businesses. We have the highly experienced team to work on your OEM/ODM projects. Our experience and splendid service have won us good business relationships with many international buyers and suppliers.
Our products are sold to many countries across the world including Europe, North America, Japan, Korea, Australia, etc. We welcome you to become our next reseller or agent in your country.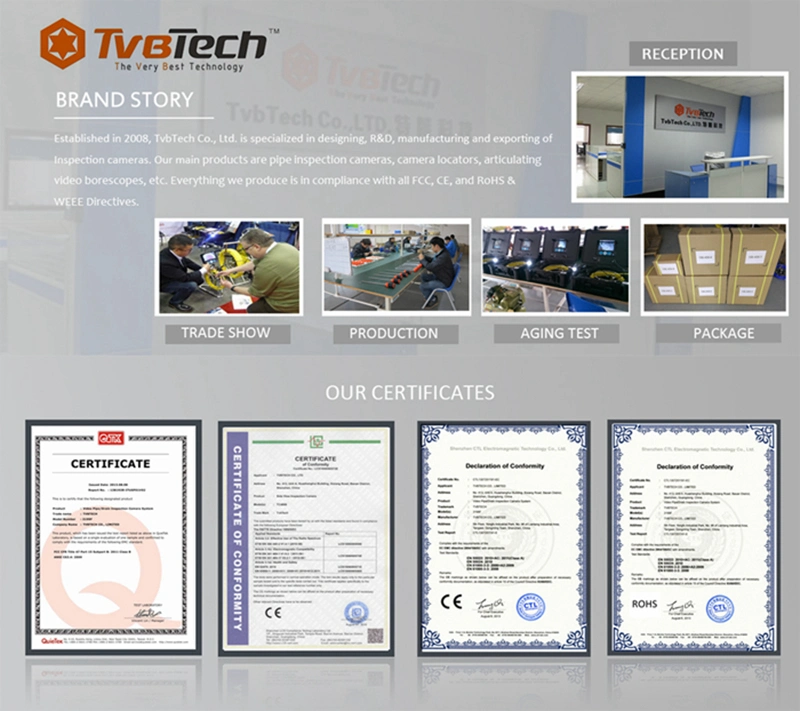 FAQ:
Q: Do you manufacture these inspection cameras yourself?
A: yes, we manufacture these inspection cameras by ourselves. we have our own R&D team and factory, we control all the design and producing procedures by ourselves, so just send us an inquiry, and we will do all the rest of things for you.
Q: Are OEM and ODM accepted?
A: Yes, welcome your OEM and ODM projects!
Q: What testing certificates do you have?
A: We have CE, ROHS, FCC certificates, we will also help to make any other testing certificates if you need.
Q: Are you searching distributors and agents for your inspection cameras?
A: Yes, we are, please contact our sales team for more details. We will protect and support you once you become our distributors and agents.
Q: What's your lead time?
A: Our lead time is one week for order ≤5 units. And two more weeks for a normal bulk order.
Q: What's your warranty for your pipe cameras?
A: Our warranty is one year after shipment. Please contact our sales team for repair replacements.

Contact us for more details about our drain camera: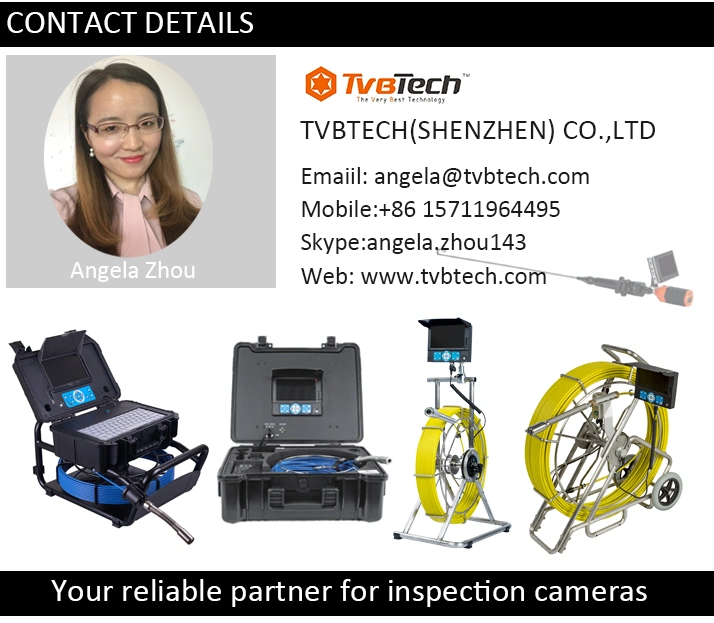 20M Cable Self-leveling Drain Pipe Sewer Pipeline Inspection Camera
20M Cable Self-leveling Drain Pipe Sewer Pipeline Inspection Camera
20M Cable Self-leveling Drain Pipe Sewer Pipeline Inspection Camera