Electromagnet Induction Heater



Induction heater is also called induction heating power supply, also called induction heating equipment. It is a collective term for induction heating of all workpieces being heated, including: induction heating power supply, induction heating equipment, bearing heater, bearing induction heater, and industrial The basic working principle of the induction heating power supply used for preheating pipes, evaporation coating, and copper brazing is to use alternating current to generate an alternating magnetic field. This alternating magnetic field generates eddy currents (eddy currents) inside the metal conductors. current), so that the metal workpiece quickly heats up. Generally speaking, the heating effect is determined by frequency, current and magnetic field.

In the process of induction heating, only the metal part of the heated workpiece is increased in temperature, and the induction heater itself will also have heat. Most of the inductors need to be cooled by cooling water during operation, and the non-metal part of the heated workpiece does not heat up .
All metal workpieces can be heated by induction heaters, such as cast iron, motor short-circuit rings, automobile wheels, metal bars, pipes, bolts, large turbine bolts, wind turbine blades, bearings, gears, pulleys, couplings, etc.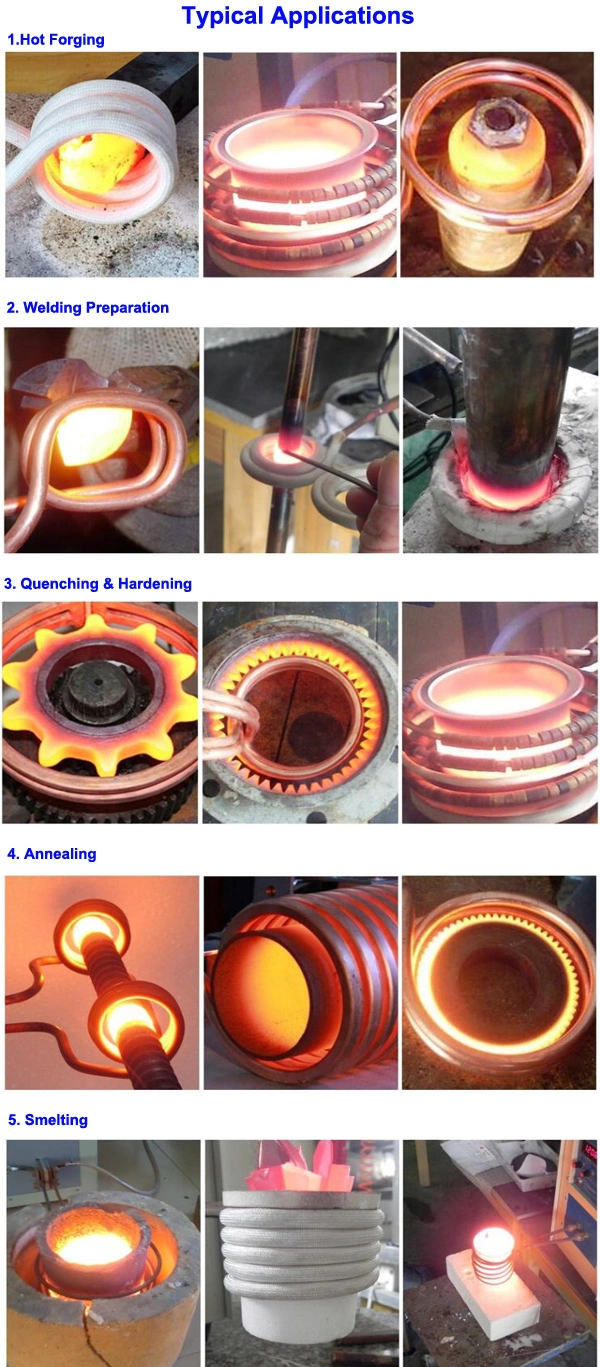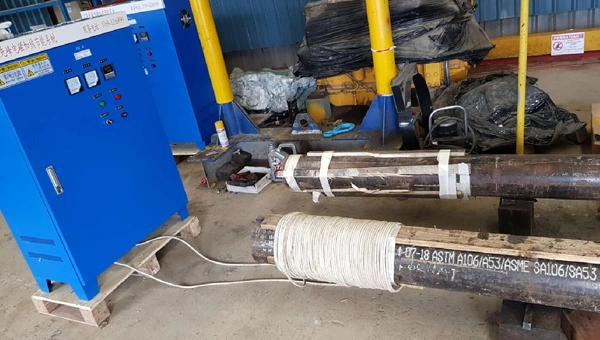 General Specifications:
Power Supply Range: AC~ 3 Phases, 315-445V
Frequency Range: 50-60Hz
Port Types:
Programmable Digital Input, Switch Relay Input, Variable Gear Input, PLC, Temperature Controller "0-5V" or "4-20mA", K-thermocouple Input.
Features:
| | |
| --- | --- |
| Overload Protection | 120% 5s; 150% momentary |
| Starting Time | <0.2s |
| Electric-Heat Switch | >98% |
| Efficient Power | >90% |
| Designing Life Period | 50000 Hours |
| Protection Inspection | <10us |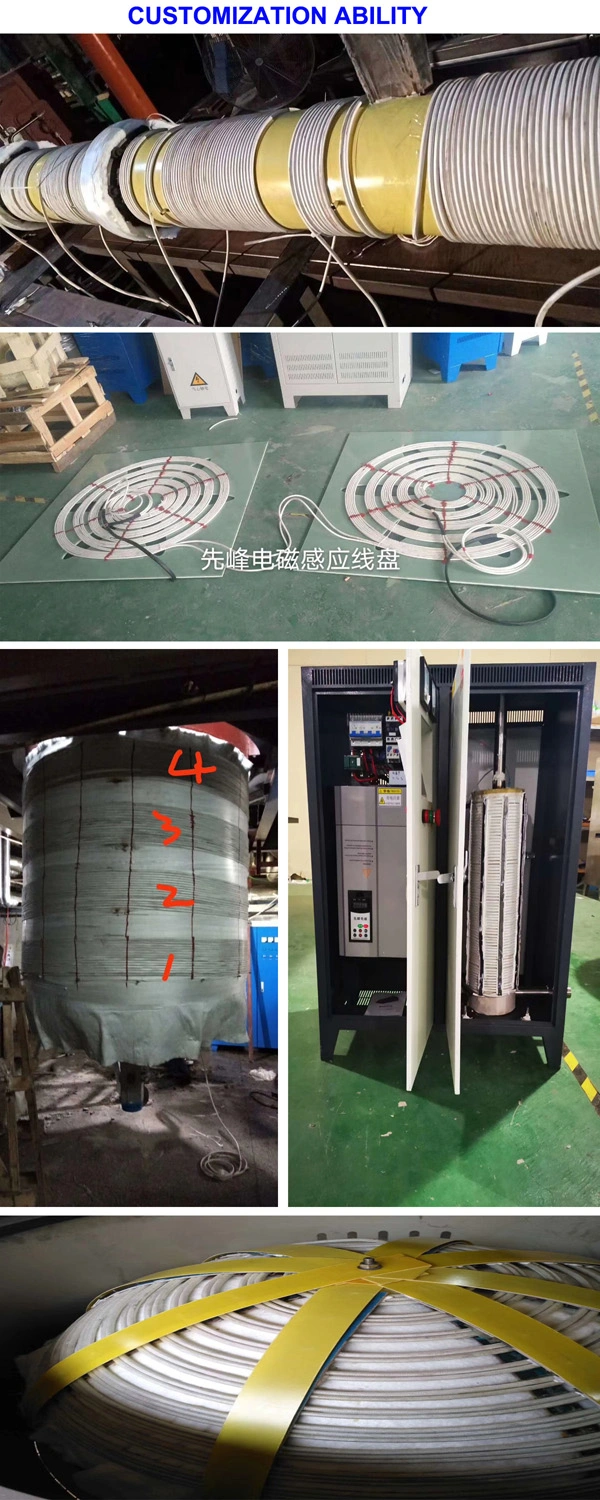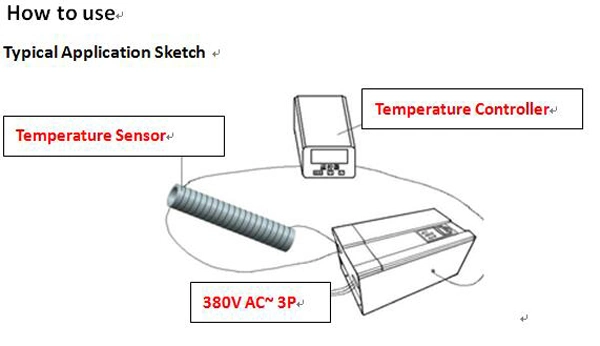 Working Environment Requests:
Working Temperature

-10-40ºC

Relate Humidity

<90%

Altitude

<1000m(power will be cut 15% for climbing per 1000m)

Storage Temperature

-20-60ºC

Others

Do not install in situations with drastic vibration and impact;




Keep away from electromagnetic radiant point;




Keep away from dirt pollution and bombing sites;




Do not install in environments with direct shining, oil fog, steam and salt.
Specifications:
Model

Volt & Hz

Output Power

Output Current

Output Wire Dia.

Output Frequency

Load Inductance




Range

XF15-45A

315-445V




50-60HZ

15 Kw

45A

10 mm2

7-40KHZ

240-400 uH

XF20-55A

20 Kw

55A

12 mm2

230-400 uH

XF25-65A

25 Kw

65A

16 mm2

200-350 uH

XF30-75A

30 Kw

75A

16 mm2

180-350 uH

XF35-85A

35 Kw

85A

20 mm2

170-300 uH

XF40-95A

40 Kw

95A

25 mm2

160-300 uH

XF50-110A

50 Kw

110A

30 mm2

150-300 uH

XF60-125A

60 Kw

125A

35 mm2

120-300 uH
The load inductance is measured with a load at 1KHz and series resonance. It is recommended to use a digital bridge. When testing with other equipment, please compensate according to the error.
When applied to carbon steel equipment such as plastic machinery and pipeline heating, the length of the inductor coil should be 45M-50M, and the thickness of the insulation cotton should be 25MM-30MM. And the heating field above 600 ºC should contact the manufacturer's technical personnel.
Main Parts Pictures: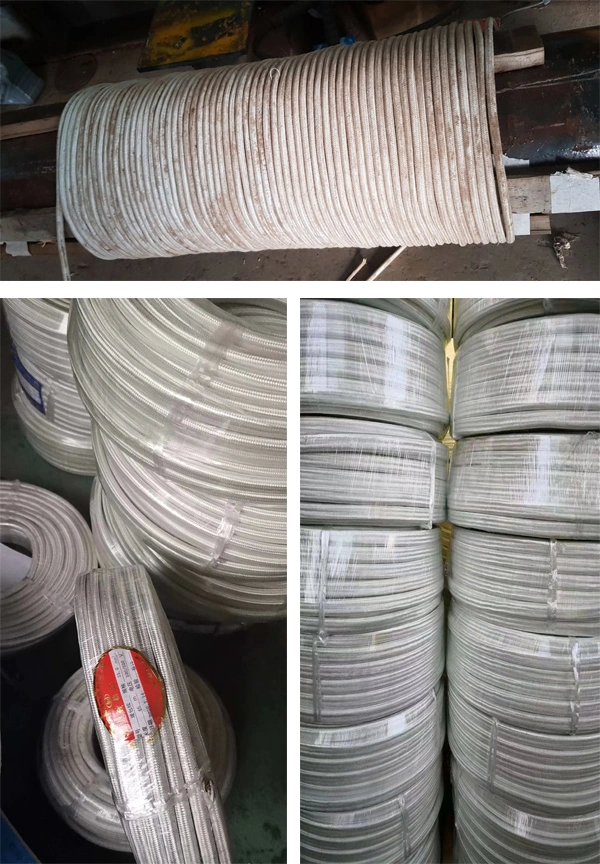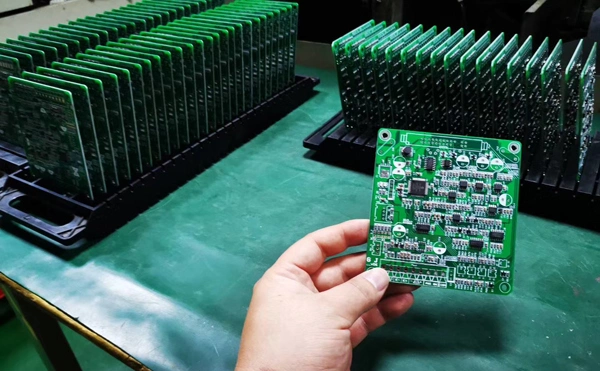 Factory Warehouse: