CE Approved 16-63mm HDPE Pipe Extrusion Machine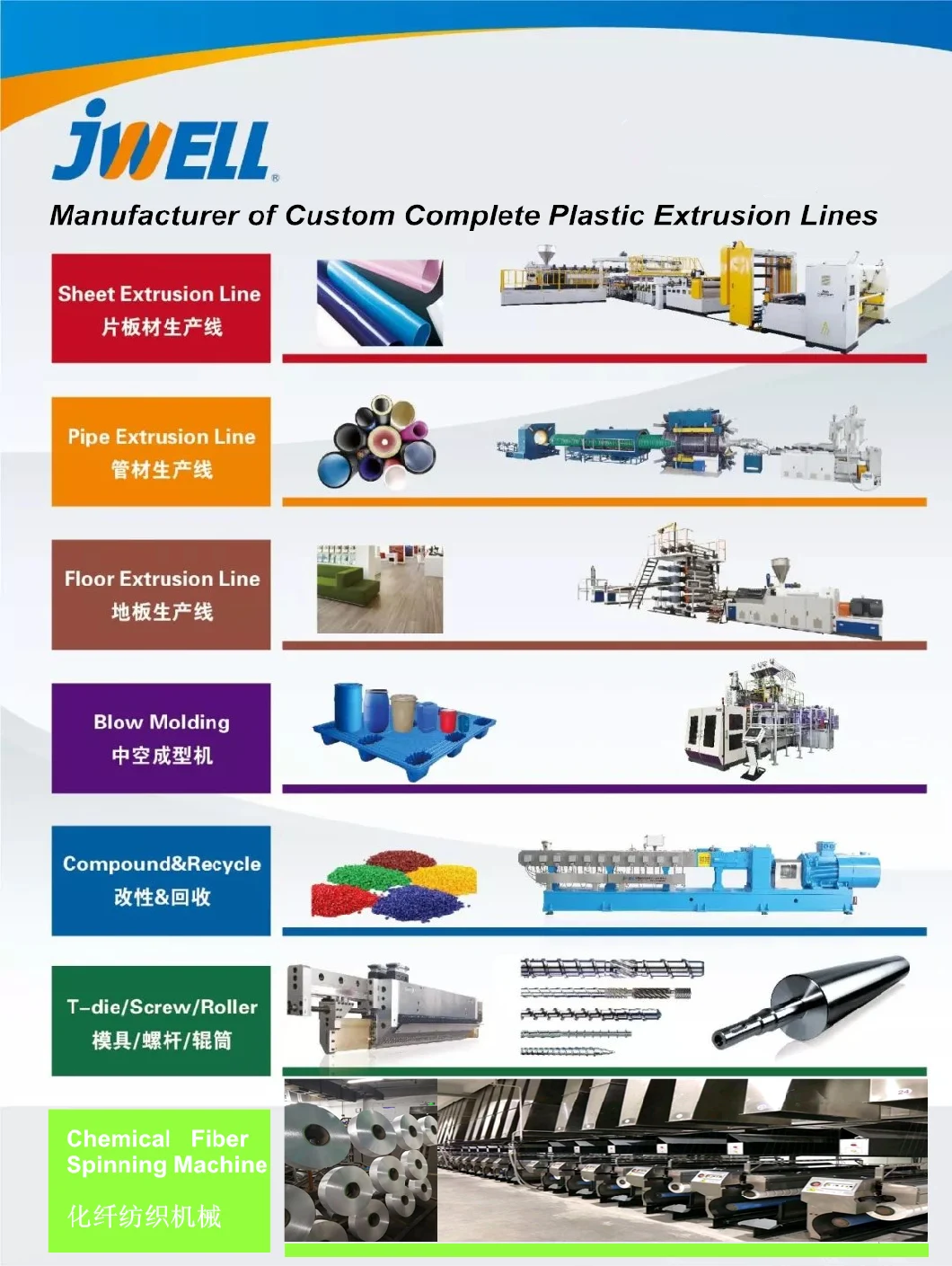 Product Overview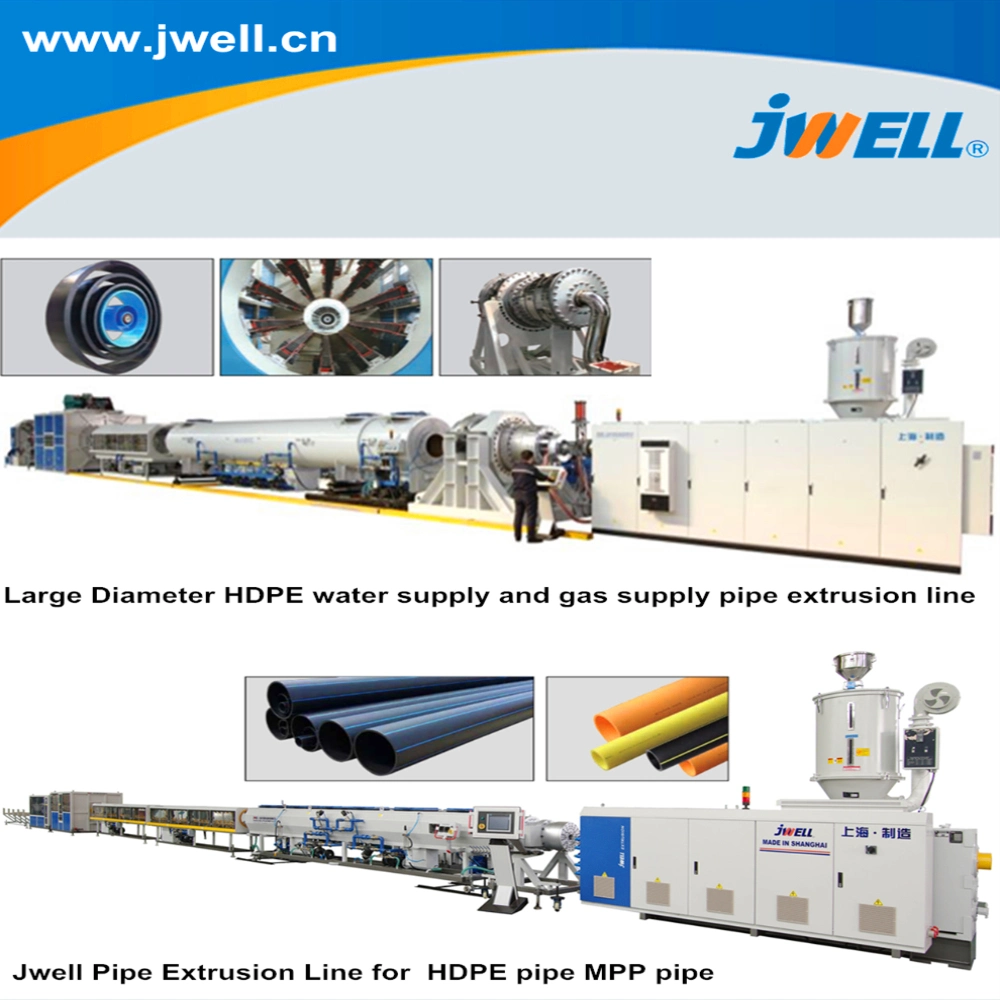 Outer Diameter

20mm

Up to

3000mm

(

customized

)

Model No.
JWPEG, JWGXPE

(

customized)

Power Range
Up to 1550 (kW)

(customized)

Production Capacity
Up to 2500 kg/h

(customized)

Layers
Single layer or multi-layer HDPE pipes

(customized)

Extruders
JWS65/33, JWS75/33,JWS90/33,JWS120/38,JWS150/38

(customized)

Material

HDPE MDPE High density Polyethylene PE

(customized)

Guarantee Time

1 year

(customized)

Certification

CE, TUV, SGS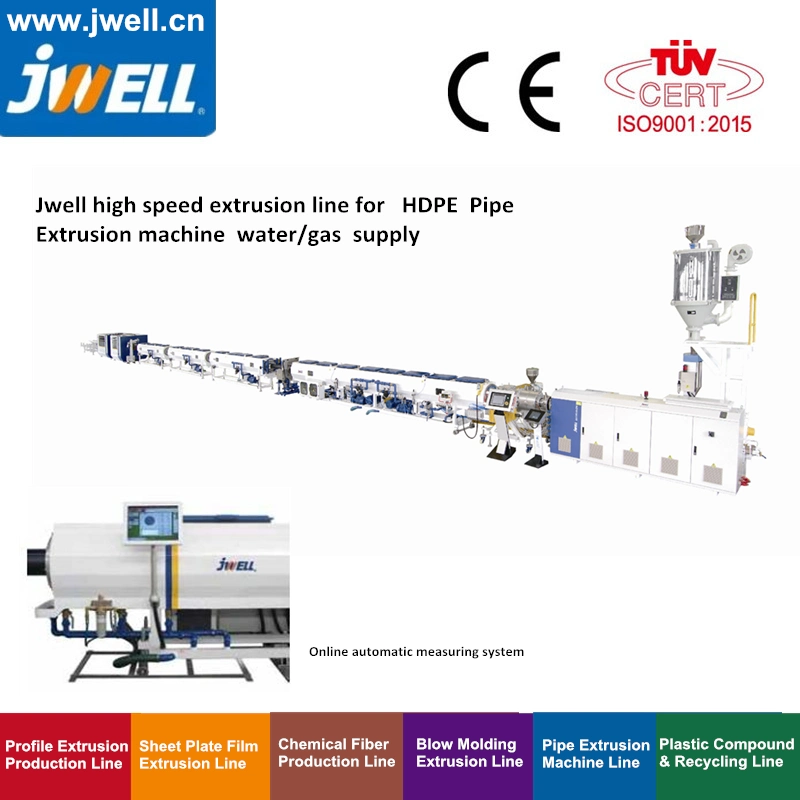 Product Description
Product Name

HDPE MDPE PP pipe extrusion line, pipe machine

Energy Saving Ratio

Up to 35%

Properties

Fully Automatic, stable production, large output

Speed Range

Normal speed and high speed optional

Standard

European

Loading Type

Automatic dryer

and loader

Vacuum suction

Brand for Extruder

Jwell

Brand for Screw&Barrel

China famous brand JINHAILUO since 1978

Electrical parts, gearbox,
vacuum pump, auxiliary part
SIEMENS PLC, ABB, Roxroth, WEG, Schneider, OMRON

(customized)
This pipe production line adopts advanced technology of Europe,it is a new research achievement of energy-saving production line,which is suitable for high speed extrusion of HDPE,PP and other polyolefin pipe.
Compared with common production line,the energy saving effect reach on 35%, and the product efficiency
increase more than 1 times, thus it is not only saving the cost of site and manpower,but also improving efficiency.
This production line has nice appearance,higher automatic
degree ,production reliable and stable.
Specification
Model: Classic Type Extrusion Line for HDPE pipe, PP/MPP pipe

Type

Diameter mm

Extruder

Capacity




(kg/h)

Power(kW)

JWPEG-63

∅

20- 63

JWS65/33

100-150

100

JWPEG-110

∅

20-110

JWS65/33

150-200

130

JWPEG-160

∅

63-160

JWS65/33

200-250

145

JWPEG-250

∅

75-250

JWS75/33

250-350

210

JWPEG-315

∅

90-315

JWS75/33

250-350

260

JWPEG-450

∅

160-450

JWS90/33

450-550

380

JWPEG-630

∅

315-630

JWS120/33

700-900

530

Model: High Speed Extrusion Line for HDPE water pipe, gas pipe

Type

Diameter mm

Extruder

Capacity(kg/h)

Power(kW)

JWGXPE-75

∅

20-75

JWS60×40

360

150

JWGXPE-250

∅

50-250

JWS75×38

600

230

JWGXPE-450

∅

160-450

JWE90×38

900

450

JWGXPE-630

∅

315-630

JWS120×38

1300

630

JWGXPE-800

∅

450-800

JWS120×38

1200

680

JWGXPE-1000

∅

500-1000

JWS120×38

1400

815

JWGXPE-1200

∅

710-1200

JWS120×38

1400

930

JWGXPE-1600

∅

900-1600

JWS150×38

1900

1200

Large Diameter HDPE Water Supply and Gas Supply pipe Extrusion Line

Type

Diameter mm

Extruder

Capacity




(kg/h)

Power(kW)

JWPEG-800

∅

450-800

JWS120/38

1000-1300

600

JWPEG-1000

∅

630-1000

JWS120/38

1000-1300

650

JWPEG-1200

∅

800-1200

JWS90/38 JWS120/38

1000-1500

960

JWPEG-1600

∅

1000-1600

JWS120/38

1000-1700

1300

JWPEG-2500

∅

1400-2500

JWS150/38

1500-2000

1400

JWPEG-3000

∅

2000-3000

JWS150/38

2000-3500

1550

Note: Contact us for customized sizes, specification, functions.
Pipeline Drawing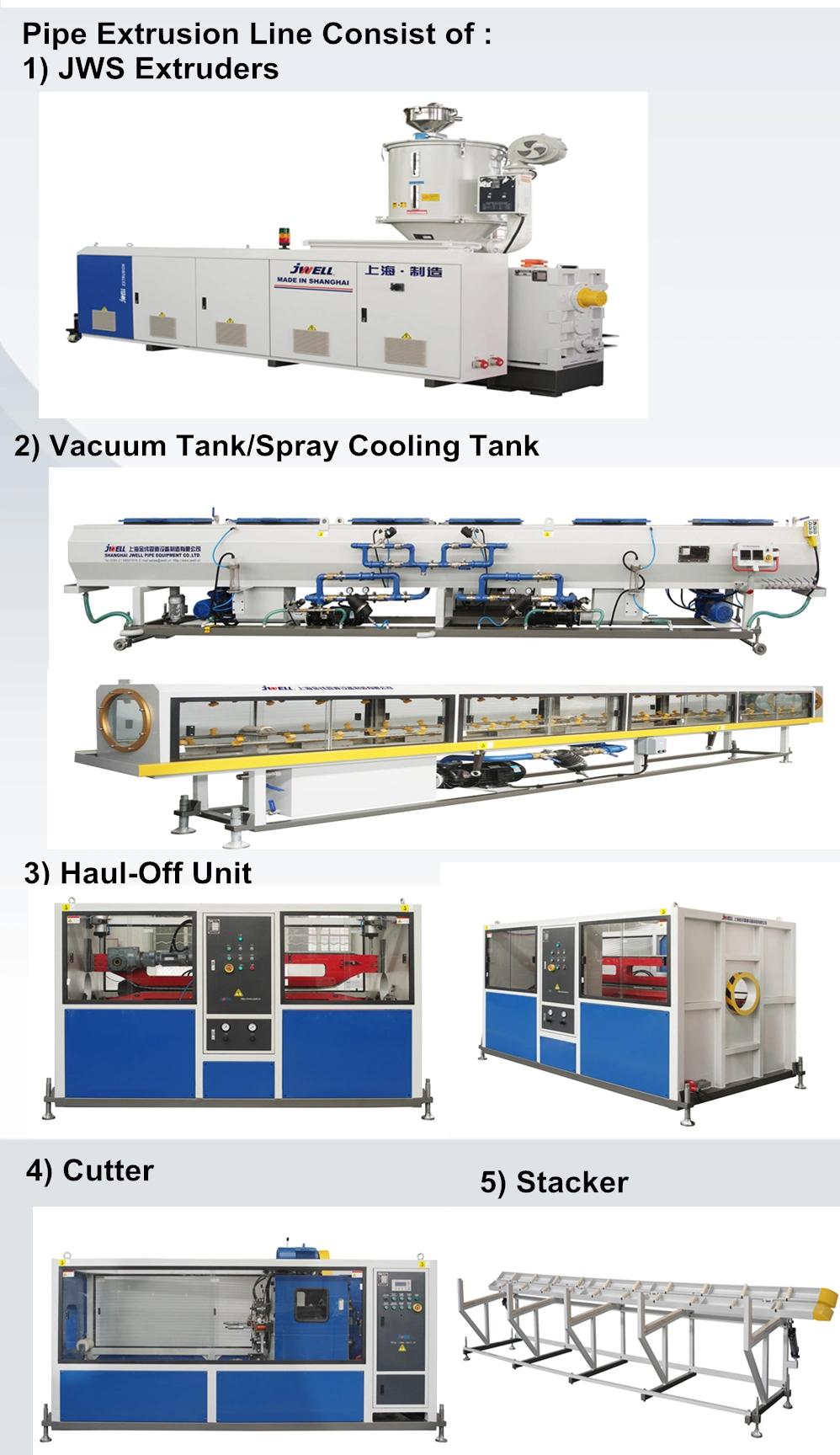 PVC PIPE Specification
Model: Classic Type Extrusion Line for PVC UPVC CPVC pipe


Type
Diameter mm
Extruder
Capacity
(kg/h)
Power(kW)
JWG-PVC32(Quadruple)
∅16-32
SJZ65/132
250-300
104
JWG-PVC63 (dual)
∅16-63
SJZ65/132
250-300
105
JWG -PVC110(dual)
∅50-110
SJZ80/173
450-500
165
JWG -PVC160
∅63-160
SJZ65/132
250-300
100
JWG-PVC250
∅75-250
SJZ80/156
300-400
110
JWG-PVC315
∅160-315
SJZ80/156
300-400
180
JWG-PVC450
∅200-450
SJZ80/173
450-500
245
JWG-PVC630
∅315-630
SJZ92/188
650-750
350
JWG-PVC800
∅400-800
SJZ110/220
1000-1300
420
JWG-PVC1000
∅500-1000
SJZ110/220
1000-1300
460
Note: Contact us for customized sizes, specification, functions.
Applications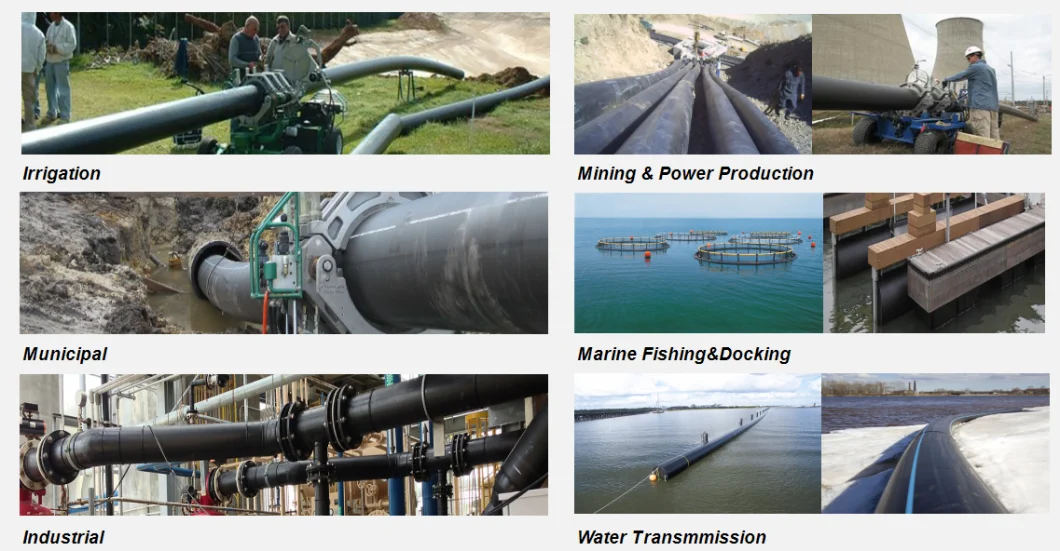 Customized Solutions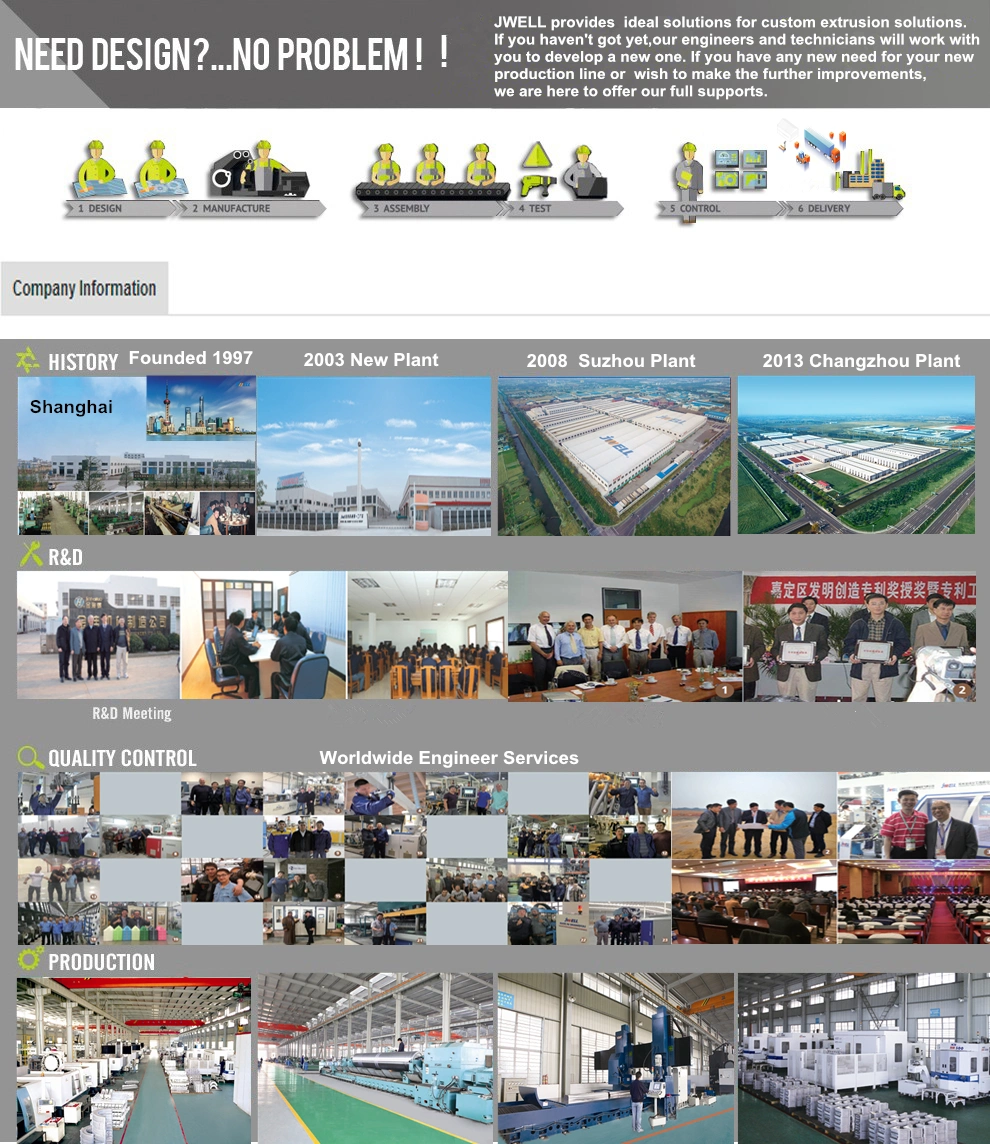 Company Information
As the vice unit of CPMIA, Shanghai Jwell Machinery Co., Ltd is the biggest manufacturer of plastic extrusion
machinery and chemical fiber spinning equipment in China, its head office is located in thewestern district of
Shanghai. There are 5 production bases, which were located in the western districtof Shanghai, Zhoushan of
Zhejiang Province, Suzhou of Jiangsu and Changzhou of Jiangsu , Dongguan of Guangdong , totally covering
700,000 square meters. It has more than 2600 staffs, about 400 technicians and managing staffs.
Main products: various plastic pipes extrusion lines including large diameter PE/PVC double wall corrugated
pipe extrusion line, large diameter PE/PVC solid wall pipe extrusion line, PP-R/PEX/PE-RT cool/hot water pipe
extrusion line, PA/PE/PVC single wall corrugated pipe extrusion line; various plastic profile extrusion lines;
various plastic plate & sheet extrusion lines; chemical fiber spinning; microcomputer controlled automatic blow
molding machines; plastic auxiliary recycling lines; various single & twin screw and barrel extruders;
T die; screen exchangers; Rollers and Robots.

Why us
Pioneering Efforts, Unity and Struggle
Seeking for innovative and practical technology, We grow rapidly with the market trend. Every person is a product
person in creating better customer experience. Trust is the corner stone of our
corporate
. As we truly believe
the
staffs are the most precious wealth, if we take care of our employees, so as each person would take care of the
customers.
"
Be Honest
"
is the core idea for us to build an everlasting enterprise.

Consistent quality, Brands Building.
We have kept an eye on the quality during all procedures since the birth or our enterprise. Consistent quality would
be the only virtue which we highly uphold. Every product marking
JWELL r
epresents safety, stability, reliability.
Cutting edge technology,
Added value products
We have professional designing engineer who recognize the market need well. We add value to customers' business
by innovative designs and products that will provide competitive advantage over your rivals.
Capable of ultimate one stop solution
There are various of products ranges, flexible order quantity, customized designs. Our products are capable of ultimate
one stop solution for different sizes of projects and business. With pre-sale and after-sale assistance, prompt delivery,
we care the customers
'
satisfaction and benefits.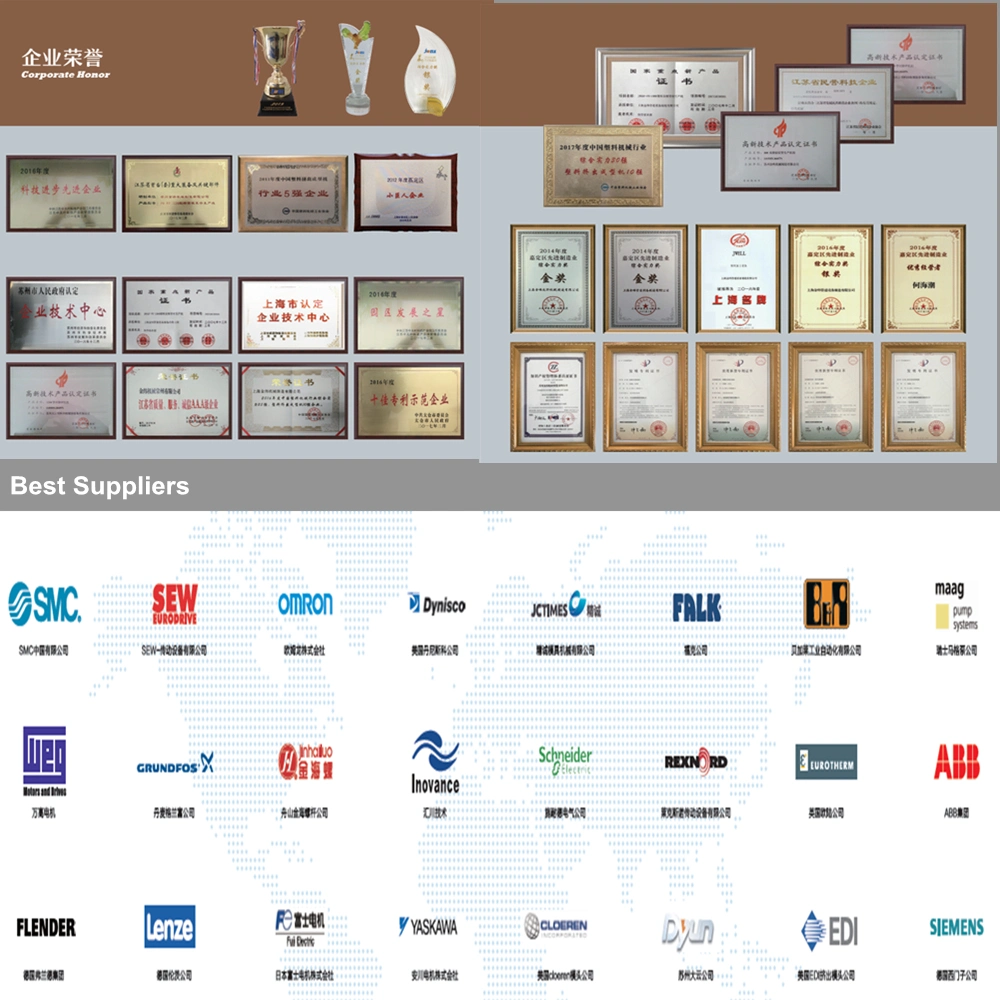 Certificate and Brand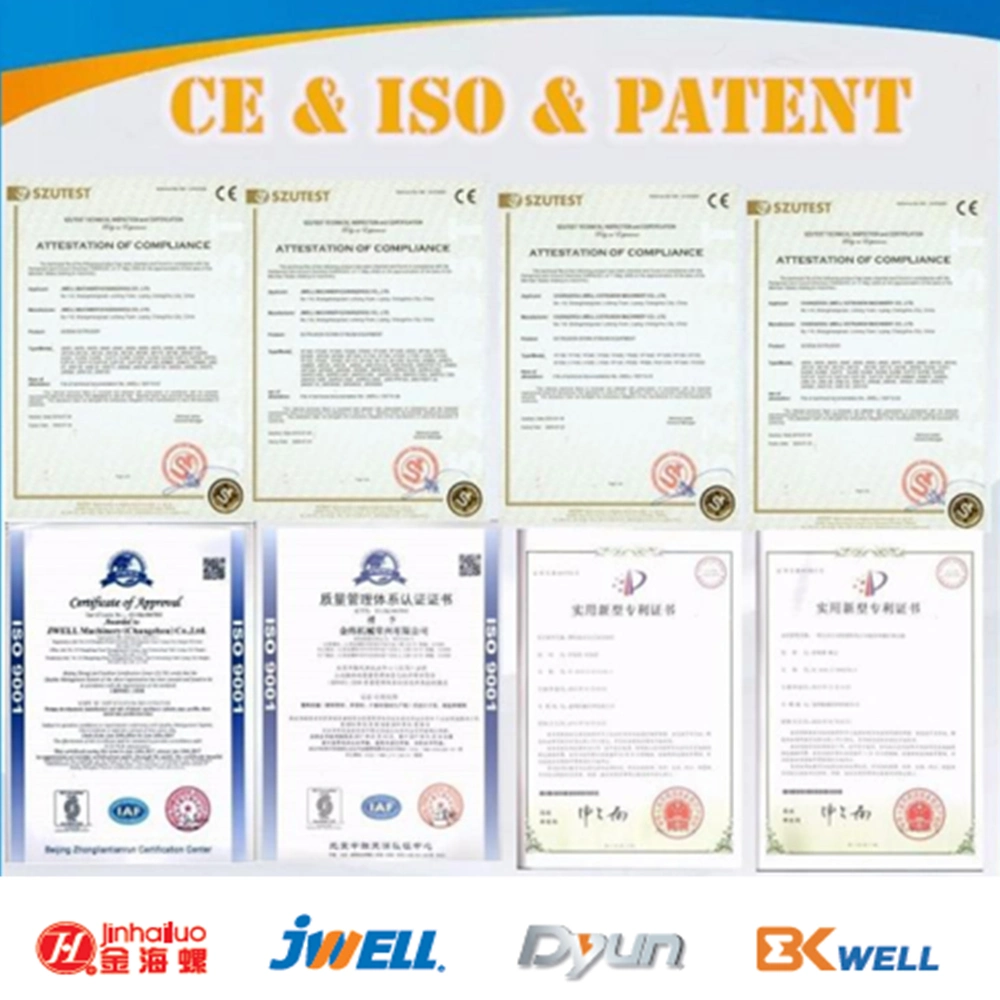 S
ales Service Networks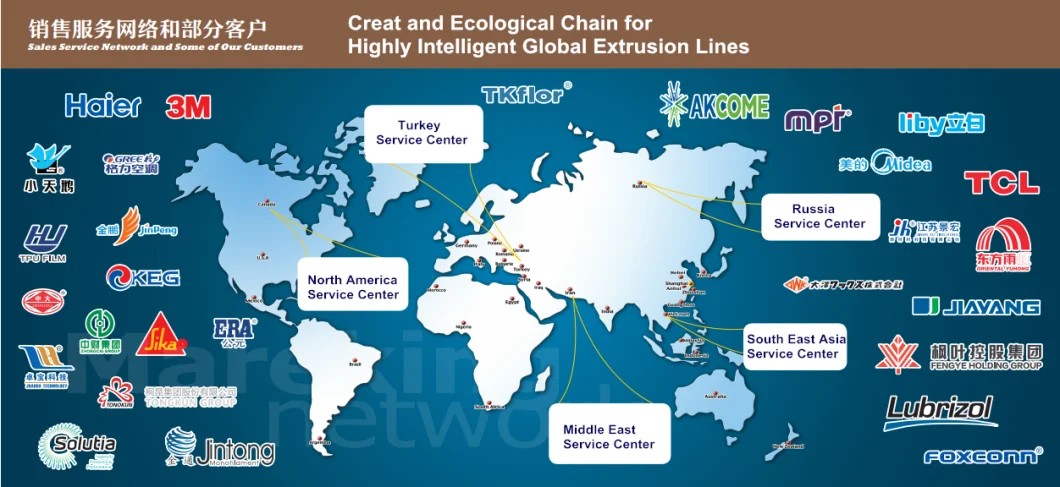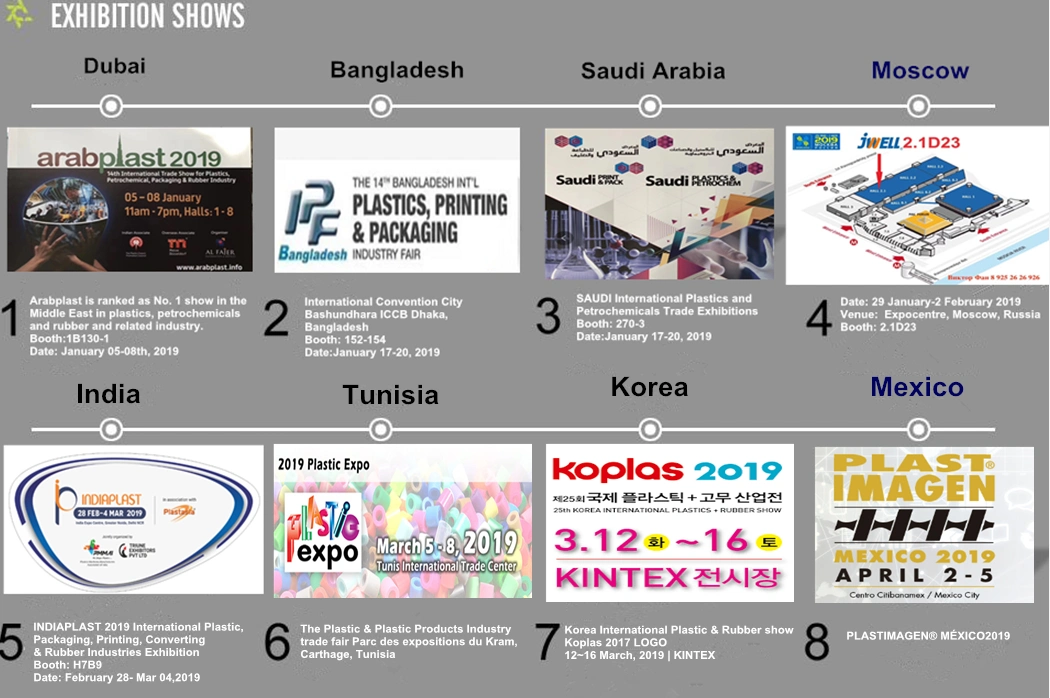 FAQ
Q1. Is Jwell Machinery a Manufacturer?
A1: Yes,
We own
5 manufacturing bases and sales center in Shanghai , Suzhou ,Changzhou, Zhou Shan, Dongguan
China.

Jwell made the first Chinese screw and barrel in 1978 in brand name Jinhailuo.After more than 40
years development,
JWELL is
one of the biggest
extrusion machine supplier in China with 300design&test engineer, 3000 employee
s.
Jwell has become the premier supplier of extrusion lines and reliable business partners.
Welcome to drop in us.
Q2:
How many brands does Jwell Machinery own
?
A2:
Jwell Machinery owns more than 20 subsidiaries, China famous brand JINHAILUO, JWELL, BKWELL, DYUN
are our Trade Marks.
Q3:
If we don
'
t find what we need from your website , What should we do ? Do you make extrusion lines as per
customers
'
specific requirement?
A3: Yes,
we can provide bespoke service to customers with specific requirements. You can send the detailed
requirements by email. We will check if we can develop them. We develop new machinery every month, and
some of them may not yet be updated on our website.
Q4:
How do you ensure your machinery and service quality?
A4:
Our machines taking the European standards and follow the Germany type of business, we cooperation with
International famous brands Siemens Schneider Flender Omron ABB WEG Falk Fuji etc.
Our company continuously
imports over 1000 international first-class high precision processing equipment such as multistage machining centers, CNC lathes and CNC milling machines from Korea, Japan etc
.
All our processes strictly adhere to CE certification,
IS09001 and 2008 quality management system . And we have 12 months quality warranty time. We testing the
machine performances before each delivery. Jwell service engineers will always be here for anything you needed.
Q5: How
can I order and make payments?
A5:
Once clear your requirements and determined extrusion line is ideal for you. We will send technical solutions and
Proforma Invoice to you. You can pay via TT bank transfer, LC as you like.
Q6:
If we find your bank account or email different as before, how should we respond?
A6:
Please don
'
t send the payment and double check with us before arrange payment (Bank details will be listed in
every piece of proforma invoice. ) We are only responsible for email
"
"
.
Q7: How long is the
delivery date
?
A7: Usually it takes about
1
-
4 months depends on different machinery
upon receipt of order advance payment.
Q8:
What is your Minimum Order Quantity
?
A8:
One. We provide both customized extrusion lines and technical solutions. Welcome contact with us for technical
innovation or improvements for your future purchasing plan.
Q9: What is your production capacity?
A9: We produce more than 2000 advanced extrusion lines every year world wide.
A10: What about shipping?
Q10: We can send the small spare parts by air express for urgent matter. And the complete production line by sea
to save the cost. You can either use your own assigned shipping agent or our cooperative forwarder. The nearest
port is China Shanghai, Ningbo port, which is convenient for maritime transportation..
Q
11
: Is there any pre-after sale service?
A
11
: Yes, we support our
business
partner
s
by pre-after sale service.
Jwell has more than 300 technical testing
engineers traveling world wide.
Any case
s
would be re
sponded with
prompt solutions.
We provide training, testing,
operation and maintenance service for a life time.
Q1
2
:Are our business& money safe with
Jwell Machinery
?
A1
2
: Yes, your business is safe and your money is safe. If you check China company blacklist, you will see that it is
not contain our name as we never crook our customer before.
Please click "send" and Contact us !!
Shanghai Jwell Machinery Co., Ltd.
Add:
Changzhou, Suzhou, Dongguan, Zhoushan, Shanghai of
China.
Contact:
Ms. Megan Jwell
Mob:+86
13818591226
Web:
jwellmachinery.en.made-in-china.com
CE Approved 16-63mm HDPE Pipe Extrusion Machine