large diameter drain drainage sewage pe hdpe plastic pipe tube ends socket making machine
hollow wall twine pp pe pipe winding tube hdpe making machine extrusion line with advanced technology. High speed and excellent extrusion quality by adopting two sets of single screw extruders with high efficiency. High quality of winding pipe produced by adopting the unique winding process. Easy operation and high performance by adopting an advanced PLC control system with touch screen.
We supply the HDPE Spiral hollow wall pipe extrusion line with the production of diameter 200 mm upto 3000mm.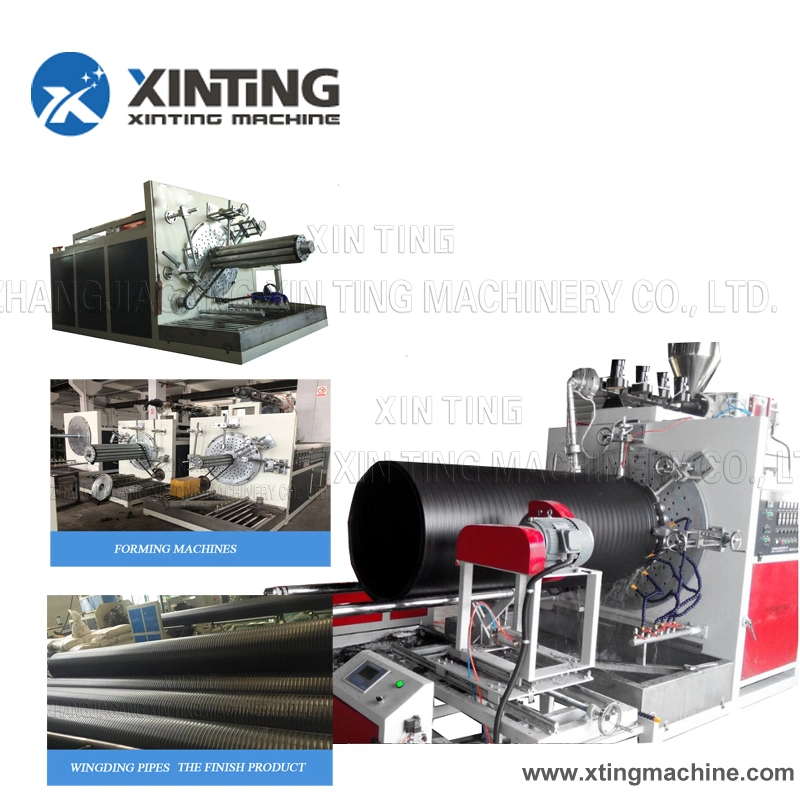 HDPE large diameter hollowness wall winding pipe extrusion machine
Production:
With its wide range including various technical solutions, ABEL's production does not only include standard machines, but also offers complete pipes extrusion lines like hdpe winding pipe machine , tailor-made according to the customers' requirements, still assuring high performances and competitive prices.
After absorbing advanced foreign technology, we have designed and developed large diameter winding HDPE production line. Our extrusion line can produce pipes with diameter from 200mm to 3000mm.
HDPE Large Diameter Hollow Wall Winding Pipe Production Line / hdpe plastic pipe machine
HDPE large diameter hollow wall winding pipes have been recognized as a substitute for cement pipes and
cast iron pipes since it possesses many particular advantages. HDPE large diameter hollow pipes have big
market potentiality.

Features:
The line adopts two sets of single-screw extruders to ensure high speed and quality extruding; Unique design of composite die-head and forming by spiral rotation ensure high efficiency and quality;
Advanced PLC Control system makes operation very convenient and operation very efficient;
Special pipe fittings are adopted and connection is very convenient.

Models:
Model

Pipe Range

ExtruderModel

Power

Max. capacity

XTSJ-800

200-800

SJ60*34
SJ55*34

210kw

400kg/h

XTSJ-1200

300-1200

SJ80*34
SJ65*34

320kw

550kg/h

XTSJ-1600

800-1600

SJ100*34
SJ65*34

400kw

650kg/h

XTSJ-2200

1200-2200

SJ100*34
SJ65*34

420kw

700kg/h

XTSJ-2600

1400-2600

SJ120*34
SJ80*34

490kw

850kg/h

XTSJ-3000

1800-3000

SJ120*34
SJ80*34

540kw

900kg/h
Features of HOLLOW PIPE EXTRUSION Line:
Extrusion theory for low temperature plastication compliant with material characteristic (heavier molecular weight).
Unique screw design of distance-changing and separation of solid material and melting material.
Unique design of loading system ensures large increasing of extrusion capacity.
Special design of high mix-melting ensures through low temperature plastication.
with super high speed and large storage capacity.
Multi control points: forming pipe extrusion, melting PE adhesive extrusion, winding and cutting process can be auto-tail controlled synchronously.
Separately controlling two extruder and winding unit in tandem with two touch screens.