Smooth And Textured Plastic HDPE Geocell For Support Pipeline and Sewer
1,Product Description:
ELTcell Geocell is a lightweight and flexible three-dimensional,expandable panels made from high-density polyethylene(HDPE)
strips which are ultrasonically bonded together to form an extremely strong configuration.Geocell system can be filled with a wide
range of material: aggregate,concrete,sand,soil,etc.

ELTcell is engineered for soil stabilization applications,it is used to help improve the performance of standard Construction
materials and erosion-control treatments.
2,Main Specification
| | |
| --- | --- |
| Item | Main Specification |
| Width Spacing | 300mm to 1600mm |
| Cell Height | 50mm to 300mm |
| Seam Peel Strength | 1000N, 1100N,1200N,1420N |
| Color | Black, Green, Sand |
| Surface | Smooth/Textured/Perforated |

3, ELTcell Advantage:
1,Virgin HDPE basic with Unique Formula.
2,Tensile Strength reaches 33000 kN/m² (33 MPa)
3,Seam Peel Strength above 16 kN/m (USACE GL-86-19); Split Strength above 28 kN/m (EN ISO13426-1 Method C).
4,Various weld spacing available from 220mm to 1600mm
5,Various strip height available from 25mm to maximum 300mm
6,Maximum strip length reaches 8m, expanded width reaches 6m.
7,Reduce construction thickness, improve load and bearing capacity, long life span, save maintenance cost
8,Easy to transport, all weather installation with high construction speed.
9,Local infill materials available, ungraded or recycled materials are acceptable, reduce construction cost.
4,Production Process: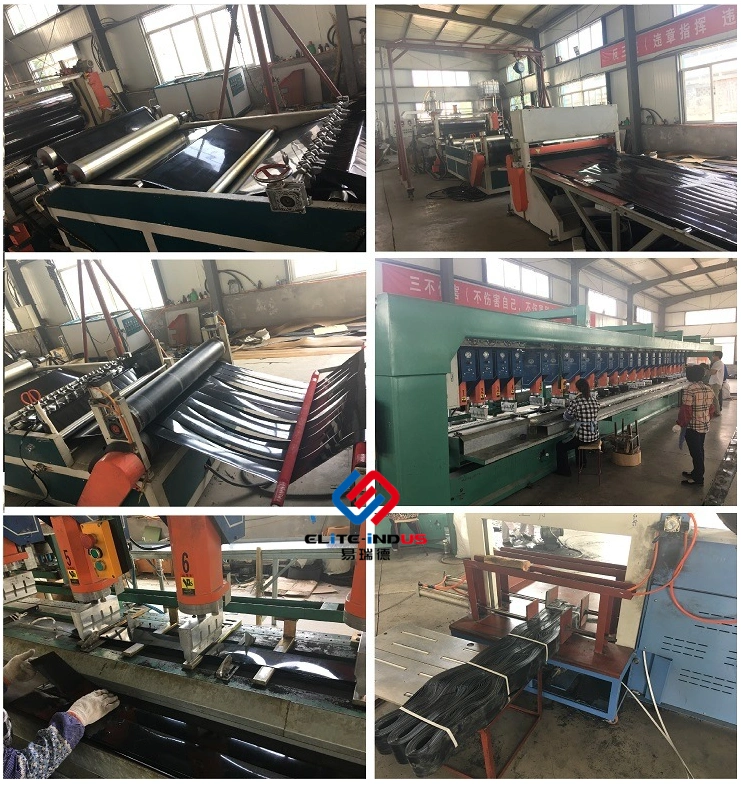 5,Specification:
Cell
Test Method
Units
Values
Cell Depth
-
mm
50-300(±0.5)
Weld Spacing
-
mm
220-1600(±1.0)
Surface
-
-
Smooth/Textured&Perforated
Color
-
-
Black/Green/Sand
Property
Material
-
Virgin HDPE
ESCR
ASTM D1603
hr
400
Density
ASTM D1505
g/cm3
0.945-0.960
Thickness (smooth)
ASTM D5199
mm
1.20 (-5% +10%)
Thickness (Textured)
ASTM D5199
mm
1.50 (-5% +10%)
Carbon Black
ASTM D1603
%
≥ 1.5
Seam Peel Strength
USACE GL-86-19
N
≥ 15KN/m
Tensile Strength at Break
ASTM D638
kN/m2
≥ 32000 (TD) / ≥ 30000 kN (MD)
Elongation at Break
ASTM D6693
≥ 900 (TD) / ≥ 480 (MD)
Oxidative Induction Time
ASTM D3895
min
≥150
Long-term
Seam Peel Strength
Long term seam peel strength test shall be performed on all resin or pre-manufactured sheet or strips. A 100mm wide seam sample shall support a 72.5kg load for a period of 168 hours minimum in a temperature controlled environment undergoing a temperature change on a 1-hour cycle from 23ºC to 54ºC
Standard Dimensions
356mm
445mm
712mm
Nominal Expanded Cell Size
252mmx252mm
315mmx315mm
503mmx503mm
Nominal Section Size
2.52mx7.3m
2.52mx9.12m
2.52mx14.6m
Nominal Section Area
18.37m2
22.96m2
36.74m2
6,Application:
1). To stable the roadbed of railway.
2). To stable the roadbed of highway.
3). To bear the load of dike or retaining wall.
4). To the imporement of shallow river way.
5). To support the pipeline and sewer.
6). For the prevention of landslide by using geocell as a heavy-duty hybrid force retaining wall.
7). To be used as independent wall, wharf and breakwater, etc.
8). For the desert, beaches and the riverbed, the river bank's regulation.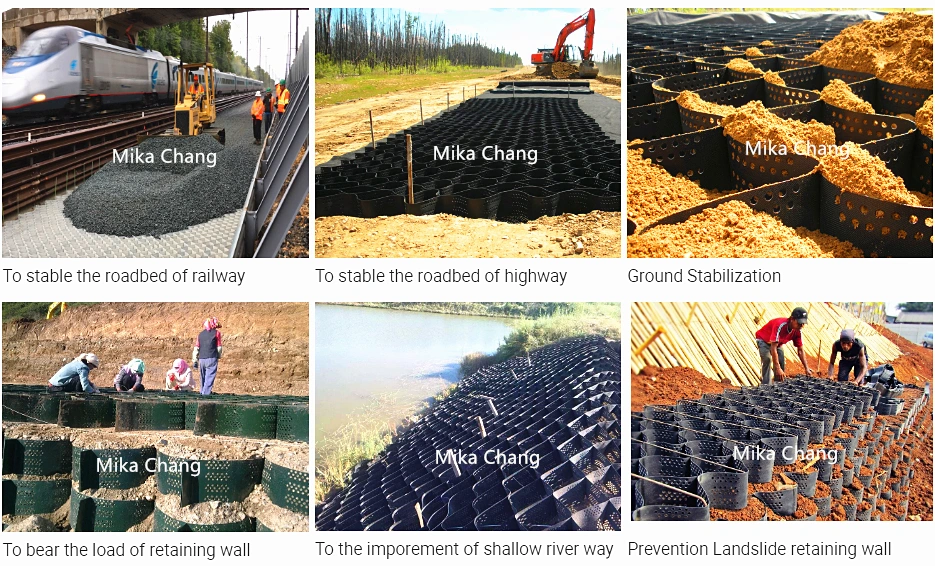 7,Packing and Connector: