WITSON Professional Drain sewer pipeline inspection video camera, HD self-leveling pipe camera
Witson Pipe/Sewer/Drain Inspection Camera has many usage. It can be used for inspecting drains, pipelines, sewage systems, conducts, chimnees, machines, walls, plumbing, etc.
This tool allows to control the status of drains and serves as a scout for detecting leaks, engorgements and obstructions. This means that gaining access to all those hard to reach places will become easy!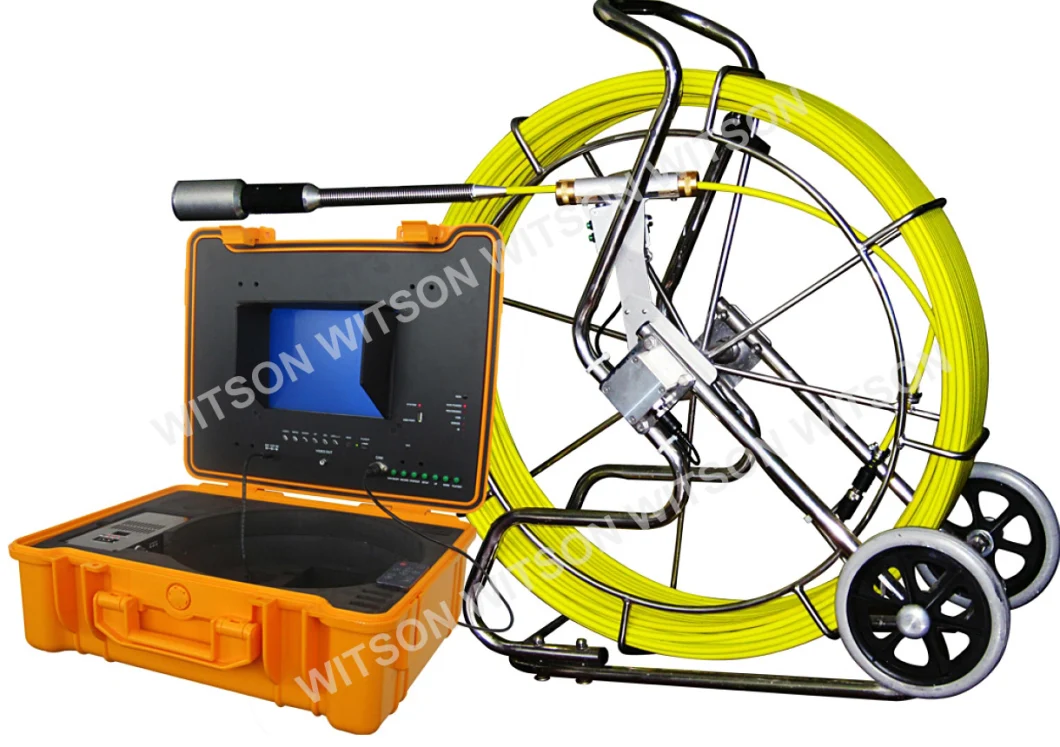 Whole Sets Include:
* 7" LCD Monitor DVR Box:
Support USB DVR Function
(Backup and Playback Through USB Flash Disk, SD Card Reader or Removable Hard Disk)
With Durable Safety Case: 460*370*180mm
* Color Inspection Camera:
1/4" Sharp CCD Sensor
420 TV line resolution
Horizontal Self Leveling
Camera view angle: 80 degree (Horizontal and Vertical)
18 White LED's
Camera head size: 50 (diameter) * 80 mm
Min. Illumination: 0.8 Lux
Sapphire Glass Lens: 3.6mm
View Angle: 60°
Auto balance picture
With centor protector
* Stainless Wheel with Push Rob Fyberglass Cable:
Stainless wheel with special structure connecter to monitor
Meter countet device
Gold touch-point connecter to Camera 60/120m (197/394 ft) fiberglass rob cable
Meter Count Device
Size: 770(L)*830(H)*360(W)mm
Applications:
1) For Professional Pipeline, Drain, Sewer, Duct, Chimneys, Machinery and Building Inspection;
2) For Maintenance of Plumbing and Wiring behind walls
* Centor Protector Size:
1. Φ 220x L79 mm;
2. Φ 140x L79 mm;
3. Φ 90x L79 mm.
* Charging Battery:
12V-4500mAh Lion Charging Battery
DC 12V Output/AC 90-260V Switch Adaptor Charge