Best Seller Extruder for Water Pipe, PVC/UPVC Electrical Wiring Pipe



Features:
PVC pipe production line is mainly used in manufacture of the plastic PVC pipes with tube diameters and wall thickness, which are used for water supply and drainage/ electric conduict pipe
in the field of agriculture and construction.
Our extrusion line can produce the PVC pipe with diameter from 16mm to 630mm.
Applications
:
1. Water supply and drainage pipe in building;
2. Rainwater drainage pipe in building;
3. Electrical wiring pipe in building;
4. Air conditioning condensate water systems.
Process Flow:
PVC powder + additive → mixing → spring feeding → twin screw extruder → mould and calibrator → vacuum forming machine → haul off machine → cutting machine → discharging rack
| | | | | | | | | |
| --- | --- | --- | --- | --- | --- | --- | --- | --- |
| Model | PVC-2-50 | PVC-4-25 | PVC-110 | PVC-160 | PVC-250 | PVC-315 | PVC-400 | PVC-630 |
| For extrusion machine | SJZ51/105 | SJZ65/132 | SJZ51-105 | SJZ65/132 | SJZ65/132 | SJZ80/156 | SJZ80/156 | SJG92/188 |
| Pipe diameter scope | Φ16-Φ50 | Φ16-Φ25 | Φ20-Φ110 | Φ50-Φ160 | Φ50-Φ250 | Φ110-Φ315 | Φ160-Φ400 | Φ315-Φ630 |
| Vacuum shaping box length | 4000 | 4000 | 6000 | 6000 | 6000 | 6000 | 6000 | 6000 |
| haul-off speed | 1.2-12 | 1-10 | 0.6-6 | 0.5-5 | 0.4-4 | 0.3-3 | 0.2-2.5 | 0.2-1.5 |
| nstalled capacity | 67 | 85 | 67 | 85 | 95 | 125 | 135 | 255 |
| Total length | 17000 | 18000 | 17000 | 18000 | 20000 | 20500 | 28000 | 30000 |
Main Machine Function:
1.Conical twin screw extruder: using the high efficient conical twin screws, specially designed for PVC power to ensure uniformed plasticization, high extrusion. Stable temperature controlling system can guarantee high quality pipe extrusion.

2.Mould: spiral type die head can not only ensure high speed extrusion, but also avoid the thermal decomposition of amorphous plastics and get high quality pipes. There is heating control system inside of the mould, high efficient, easy to extrude. Bronze calibrators can make the pipes fast calibrated and cooled.

3.Spraying and cooling tanks: Rapid vacuum calibrating system allows the hot extruded pipes to be cooled in a very short time and obtain the final pipe diameter. Automatic temperature control system, pressure regulator, and vacuum control valve greatly enhance the pipe sizing and cooling performance as well as the production speed.

4.Haul off machine: adopts caterpillar type, which includes two-claw types, three-claw types, four-claw types, six-claw types, eight -claw types, ten-claw types, twelve-claw types etc, suitable for different sizes of pipes. Haul off caterpillar blocks are made of abrasion resistant rubber material, which can make a high and stable hauling speed.

5.Cutting machine:precision machine cutter is able to make flat, straight cuts into pipes at high speed. A powerful suction device gathers up waste scraps after cutting, thereby making it easier for users to clean the cutter.

6.Pipe belling machine: automatic pipe belling machine comes with 2 heating ovens to ensure pipe belling quality and productivity.
Photos
: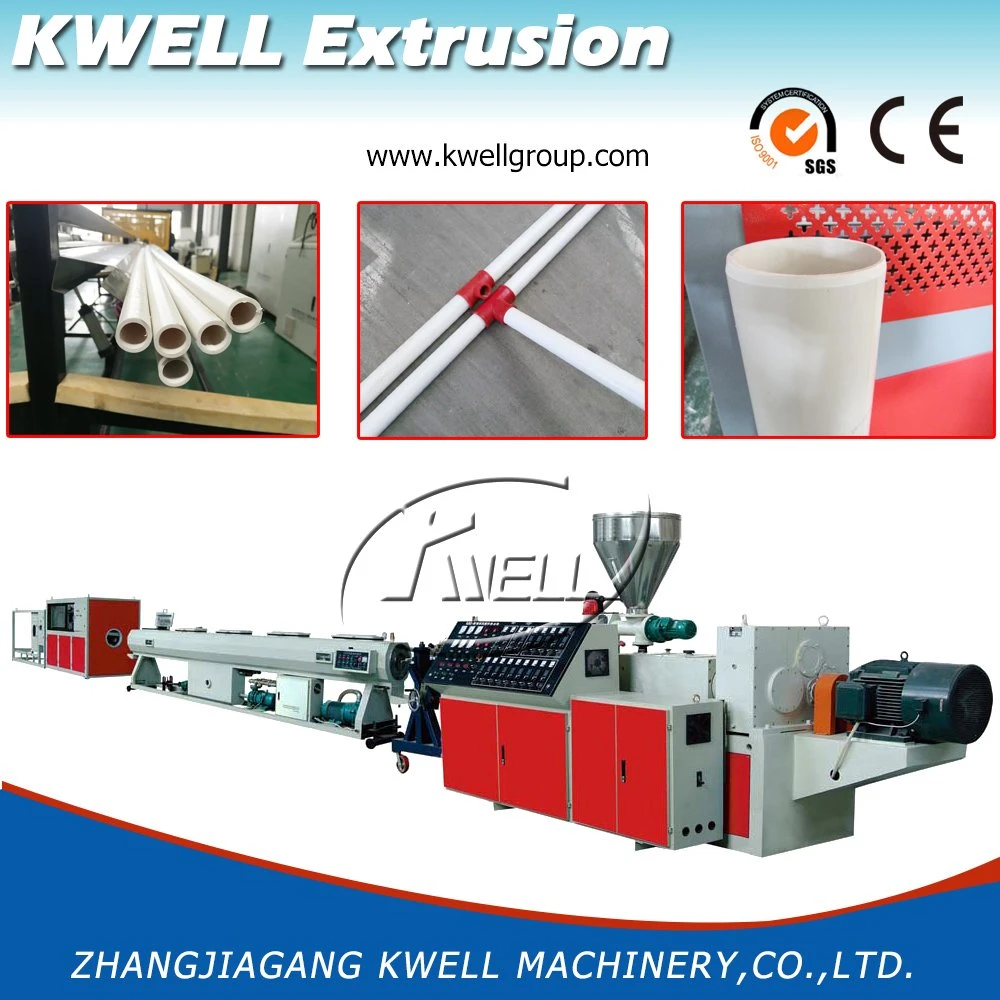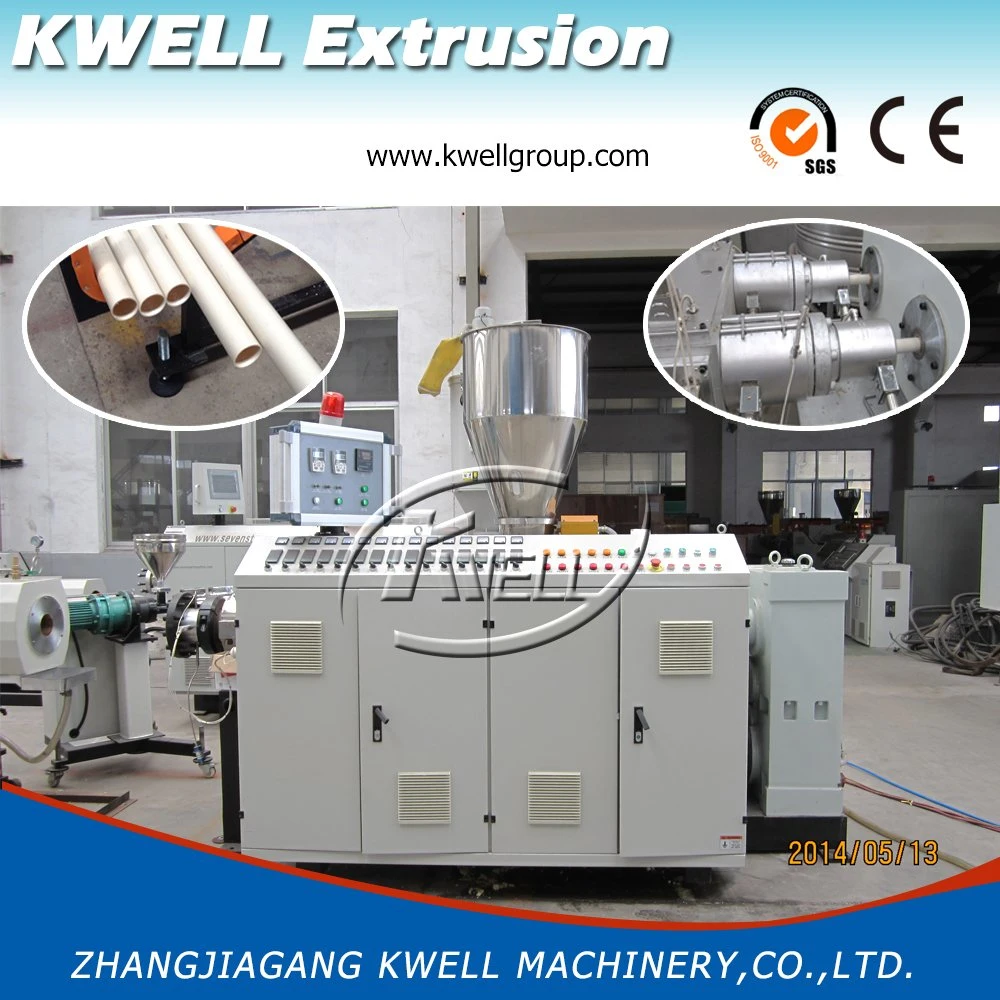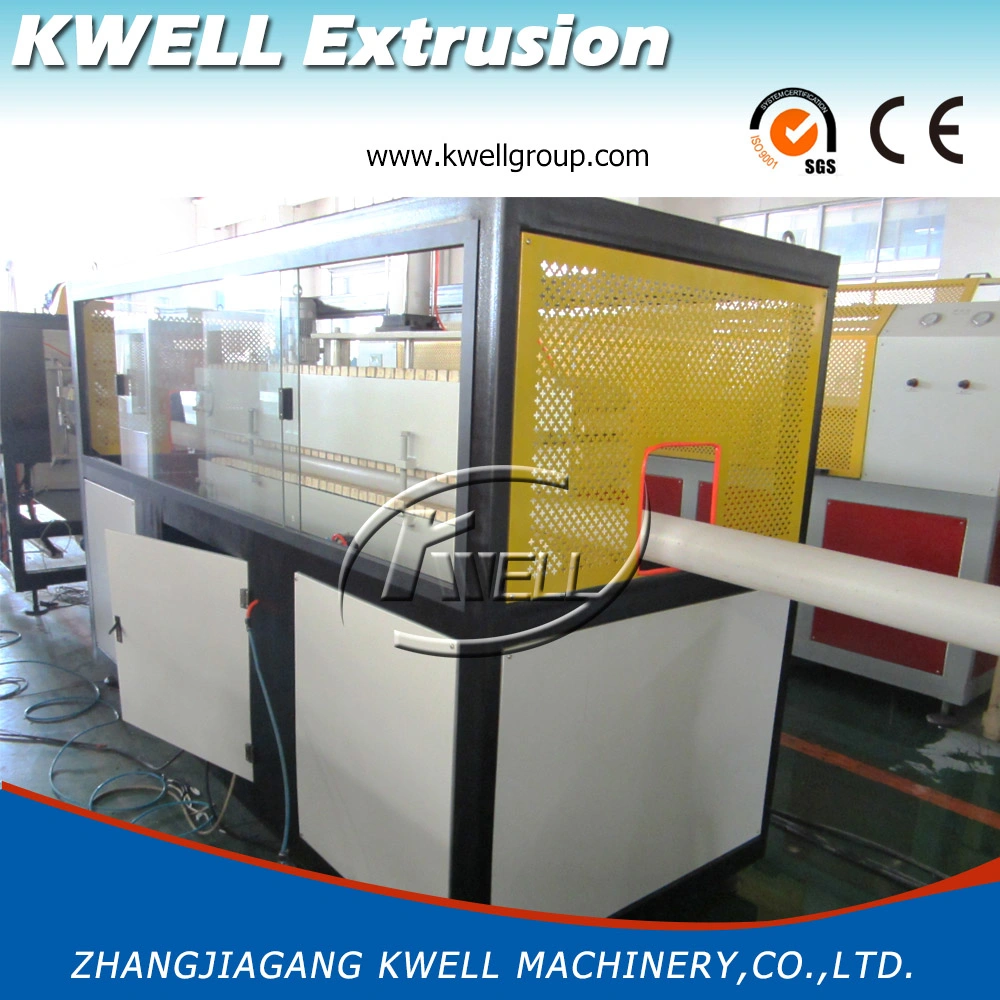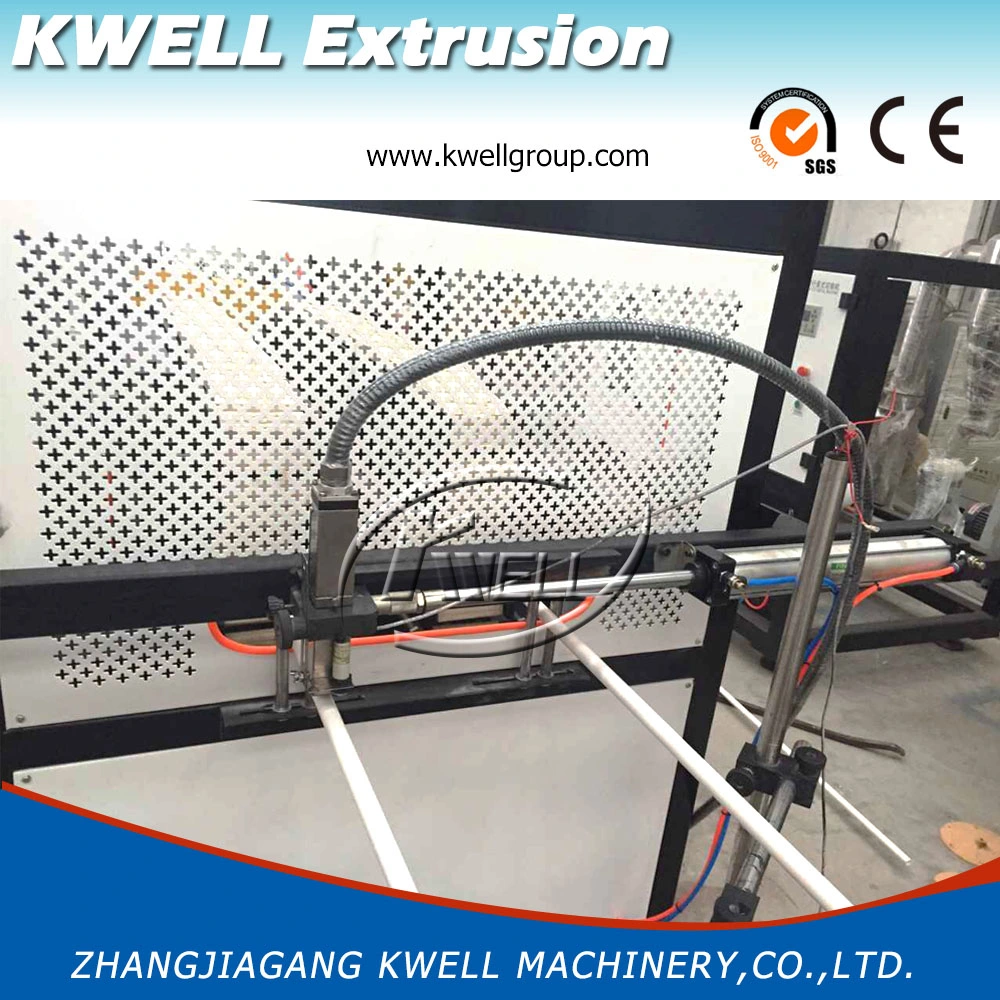 Package: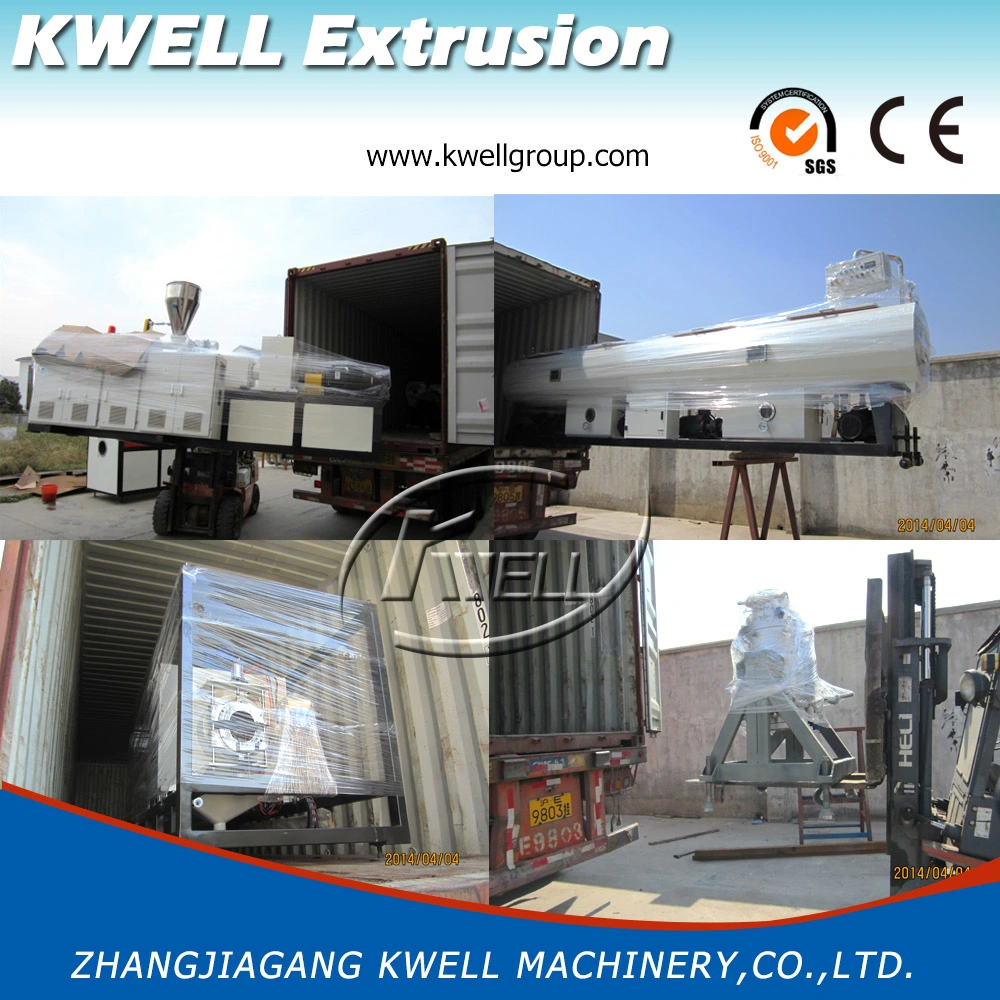 Photos of factory: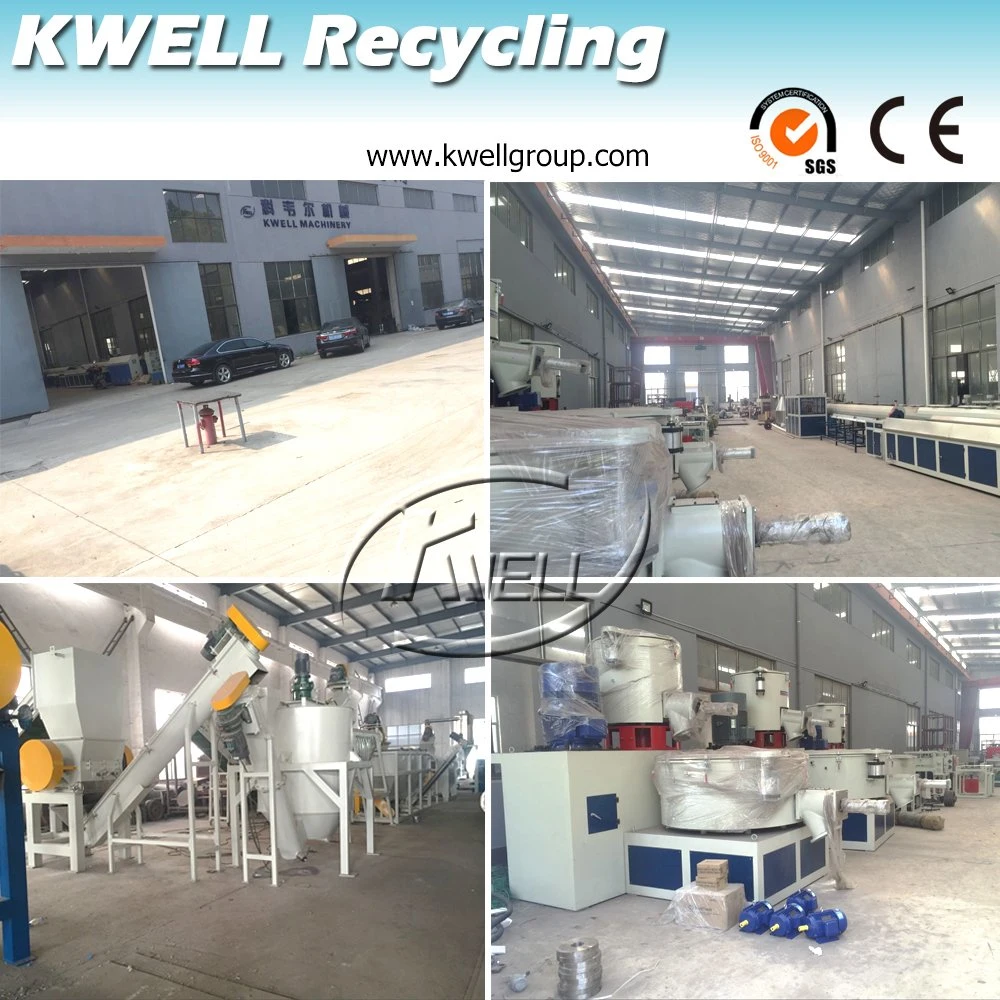 Spare Parts
Customer's requirement is our first priority. We could provide you reliable, fast and professional service through telephone, network and on-site at any time. Normally, we send our customer one set of spare parts together with the machines when we deliver the product.
During the warranty, we provide new parts free of charge for you to replace, exclude the parts broken that caused by improper operation.
In our spare parts department, you will get professional technical advice, as well as the relevant information regarding all products and services.

Top Quality:
KWELL is a prestigious plastic recycling machinery manufacturer in China. Our customers have been enjoying a variety of advantages in particular in terms of the dedicated screw designed by our R&D team including good mixing, good dispersion, high productivity, and so on.

Implied Qarranty:
KWELL Machinery guarantees all new products and parts to the first owner-operator to be free from defects in material and workmanship for a period of 12 months from B/L date, under normal use and service.

After-sales service:
1.Send engineers to install, test the machines and offer technology guidance and worker training at customers' factory.

2.Offer 12 months free maintenance and life long service. After the warranty period, spare parts will be provided at basic cost.

3.Build customers database. All machines are traceable.

4.Visit customers and make quality trace periodically and take customers' feedback into account during routine practices.

5.Speed up service and spare parts supply.
Welcome your inquiry for details!
Tel/Fax:0086-0512-58565868
Website:kwellgroup.en.made-in-china.com