Combustible Gas detector Portable Gas Sniffer to Locate Gas Leaks of Gases Like Methane, LPG, LNG, Fuel, Sewer Gas Leak Meter for gas pipeline
GD-H01 detector is a new generation of portable instrument for combustible gas leakage detection . It adopts a microprocessor with low power consumption and high efficiency, and a LEL combustible gas sensor with high sensitivity. The resolution of LEL and ppm is 0.1% and 10 ppm respectively. The liquid crystal display with backlight can display ppm and LEL concentration of the measured gas at the same time.

GD-H01 has two levels to set the alarm concentration. With the increase of the measured gas concentration, when the alarm concentration is reached, the alarm indicator on the top of the instrument lights up, accompanied by the sound and vibration of the buzzer.

After GD-H01 is turned on, the click sound will automatically turn on to help locate the gas leakage point. The click sound comes from the side of the instrument and is easy to hear.

GD-H01 adopts cog dot matrix LCD with backlight to display the test data and instrument status through Chinese and icons, providing a simple and intuitive operation interface. Data recording function can save the required measurement record data for historical data query.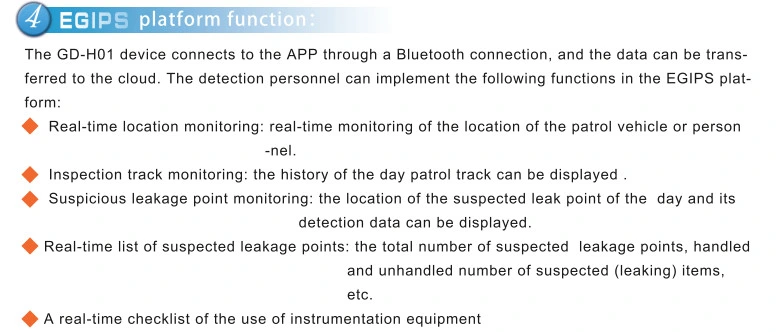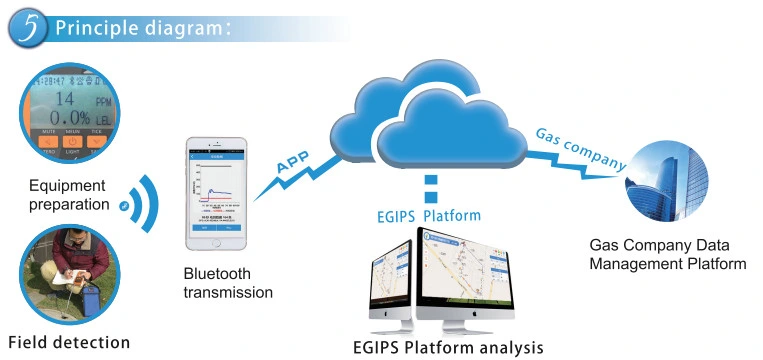 Detection gas : combustible gas
Detection principle: Semi-conductor
Detection range: 10ppm~50000ppm, 0~100% LEL
Sensitivity : 10ppm 0.1% LEL
Response time: T <30s
Storage temperature: -20ºC~40ºC
humidity ≤95% RH No condensation
Data display : LCD screen display the real-time data, low power indicator and fault indicator and flash and noise and shake indications.
Sound alarm: 85dB@10cm
Communication interface: Bluetooth, USB (OPTIONAL)
Operation voltage: 3.7V 2600mA Li-ion battery
Dimension : 177cm* 68cm*26cm
IP Level: IP54
Weight : about 280g


Wuhan Energy Technology Engineering Co., Ltd. and Wuhan Energy Testing Technology Co., Ltd. are located in Wuhan China Optical Valley Center. We are professional companies engaged in the development and sales of pipeline safety testing equipment, instruments and special testing services. The company has a team of masters and experienced engineers and managers. Energy cooperates closely with its mother company, YJ International High-Tech Equipment Co., Ltd., and is committed to introducing advanced technologies and equipment from the United States and other developed countries, and developing related products suitable for the Chinese pipeline market.

Team
Wuhan Energy has an experienced pipeline network inspection team and a Chinese technical service center authorized by manufacturers in the United States and the United Kingdom. The professional services provided engineering service include: underground pipeline cathodic protection system and anti-corrosion layer inspection; comprehensive safety assessment of pipeline system; Risk assessment of pipeline systems; rapid inspection of gas pipelines and location of leaks; location and detection of underground pipeline networks; technical consultation; training, maintenance, repair, calibration, etc. of pipeline safety inspection equipment. In a number of technical service work, Energy has been widely praised by customers.



Production Capability
Energy has a complete production line, and the production operation strictly follows the requirements of IS9001. The laboratory is in charge of professional engineering personnel, calibration and maintenance are carried out regularly. There are 20 production personnel, most of whom have professional technical capabilities, and produce 5,000 gas detectors per month.


Guaranty
From the date of purchase of the GD-H01, if instrument fails due to raw material and process problems, you can enjoy one year of free maintenance.However, due to the transportation or mis-operation are not covered by the warranty. Please present the proof of purchase during the warranty, and a certain service fee will be charged for the instruments not covered by the warranty. Internal repairs or maintenance must be carried out by Wuhan Energy Technology Engineering Co., Ltd. or by professionals from an after-sales service company authorized by Energy. In order to protect your legal rights, please do not disassemble the instrument privately, otherwise, Energy will not be able to provide after-sale protection.
Attachment & Spare parts
Standard accessories:
Portable case, lithium battery charging adapter, USB connection, thin neck probe, operation manual
Application