Introduction:
Spiral chutes are devices to separate solid components in a slurry, based upon a combination of the solid particle density as well as the particle's hydrodynamic properties (e.g. drag). The device consists of a tower, around which is wound a sluice, from which slots or channels are placed in the base of the sluice to extract solid particles that have come out of suspension.
Typical spiral concentrators will use a slurry from about 20%-40% solids by weight, with a particle size somewhere between 1.5-.075 mm (17-340 mesh), though somewhat larger particle sizes are sometimes used. For good separation, the density difference between the heavy minerals and the light minerals in the feed
stock should be at least 1 g/cm3; and because the separation is dependent upon size and density, spiral separators are most effective at purifying ore if its particles are of uniform size and shape. A spiral separator may process a couple tons per hour of ore, per flight, and multiple flights may be stacked in the same space as one, to improve capacity.
Feature:
--

Reasonable structure and small occupation area.


--

High recovery, high efficiency, and precise separation.


--

Light in weight, rust and corrosion resistant.


--

Simple installation and Minimal maintenance requirements.


--

Low operating cost and long operating life.


--

Reliable running with minimal operator attention.


--

Strong adaptability to fluctuation of feeding amount, density, size and grade.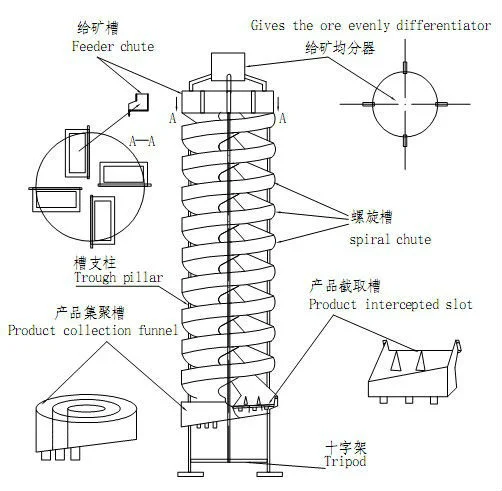 FAQ


Q: Are you a factory ?




A:

Yes,we are factory, which was established in 2006.




We focus on providing expert service including design, manufacture, installation & maintenance for the logistic industries & warehouse equipment.




Q:

Terms of Payment:


A:30% of the total amount by TT as deposit, the balance to be paid by TT or L/C at sight before the machines leaving seller' factory.
100% irrevocable L/C at sight.


Q:Time for preparation of goods:




A:

The above machines shall be ready for delivery during 45 days

from the date of receiving the deposit/LC, excl

uding the time of waiting for shipment. If there is any delay of delivery caused by seller, 3‰ of the total amount shall be paid to buyer each day, but this amount shall not exceed the amount of deposit; if the delay is caused by buyer, 3‰ of the total amount shall be paid to seller each day, but this amount shall not exceed 10% of total value of machines.




Q:Guarantee period:




A:

The guarantee period for the above machines is twelve months from the date of putting into use, but not exceeds twenty-four months after the machines leaving seller's factory. It is not applicable for quick wear parts.




Q: May I know the status of my order?




A: Yes. We will send you information and photos at different production stage of your order. Every step will be send to you in time.




Q: Can I customize shelving or racking at my own size?




A: Sure.




Q: If i need the complete mineral processing line. is

Baite

able to help us build it?
A:

Yes, we can help you combine a complete mineral processing line. and give you related professional advice as long as you need.




There is a rich experience engineer team of us. we had already build many mining projects in China & Overseas. You can believe our quality and service.





Why Choose us?




1.Pre-sale services: enthusiasm




We provide you with the prophase plan, process flow design and manufacturer equipment according to your special demand.




2.one-year warranty to make sure your machine runs consistently.




We always offering lifelong services and provide spare parts for a long term,and repair main parts under right using for free in two years.




3.Technical services




3.1 Design of production line and solutions according to buyer's requirement.




3.2 In 7 days after the receipt of deposit, the seller shall provide related technical documents for equipment installation,

in addition to those with special requirements.


3.3 Before delivery, the seller can modify the previous solutions according to buyer's requirement.




4.After-sales service




4.1 During the installation and commissioning, the seller shall send technician to the site for instruction of installation and commissioning, and for training of workers.




4.2 If

there is any equipment f

ailure caused by the buyer, the seller shall assist the maintenance of machines and replacement of fittings, and charges appropriate fees.




4.3 Beyond the guarantee period, the seller can provide services

and fittings at a most preferential price.
4.4The seller can provide consultation and inspection services freely for other products, especially for the up-stream and down-stream products of our equipment.
Contact Person:Doris