Plastic Large Diameter HDPE Pipe Extrusion Machine
Application:
Plastic Large Diameter HDPE Pipe Extrusion Machine
is mainly used in the production of agricultural drainage, water supply and Gas supply purposes. The unit consists of
single
extruder
machine
, mold, vacuum forming tank, multi-claw haul-off machine, planetary(chipless
/non-dust cutter
) cutting machine, stacker and so on. And the line can be equipped with Comptroller thickening instrument or computer ink
-
jet printer, etc. to achieve the production and manufacture of high-grade tubing.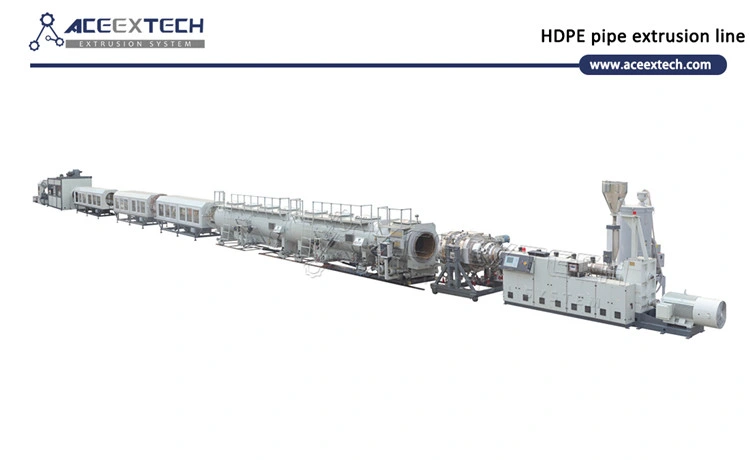 G
reat a
dvantages
:
1.
High lineal extrusion speed, big capacity and low power consumption, and achieved multi-layers
co-extrusion with 1-5 layers.
2. The copper bush is more wear-resisting and prevent material leakage which can guarantee a stable running of extruder.
3. M
aterial feed via spiral groove, efficient transmission and can effectively reduce back-pressure on extruder.
4. Unique design (barrier, shearing and mixing zone) guarantees a uniformed plasticizing effect, and can reduce the
pressure on the screw which guarantees a high speed and stable output capacity.
5. High torque gear box has a smart figuration, compact construction, low noise, high carrying capacity, high transmission efficiency
can assure long-time trouble-free operation;
6. PCA(pipe air cooling system) of die head largely increase the extrusion speed and decrease the cooling length of extrusion line,
and improve quality of inner pipe surface;
7. Intelligent PLC controlling system with human-friendly interface make the operation easily and conveniently;
8. Chip-free cutter ensuing flat and smooth cutting surface of pipe.
Work flow and detailed information :
Feeder

•

T

o feed material into extruder;

Extruder

•

World famous brand electrical component such as Siemens,Schneider, ABB etc;




•

High torque gearbox with adopts NSK/SKF bearing;




•

Siemens/WEG original motor achieved global after service;




•

Bimetallic screw and barrel;




•

Intelligent PLC controlling system with human-friendly interface.

Die head

•

40Cr material




•

Complete set include extrusion die head, Slotting & water ring type calibration sleeve




• Apply to PE/PP, co-extrusion, multi-layers co-extrusion etc

Vacuum calibration

tank

•

Include full set of vacuum and water pump




•

length from 6m-9m

Haul off

•

Upper and lower caterpillar is driven separately by the frequency inverter




•

Fast change type pads

Cutter

•

Tracking cutter or Non-dust cutter, Blade rotates around pipe and cut off pipe with smooth surface.




• Synchronous control

Stacker

•

Stainless steel

304 as t

ouch

ing

material




•

Discharge driving by

air

cylinder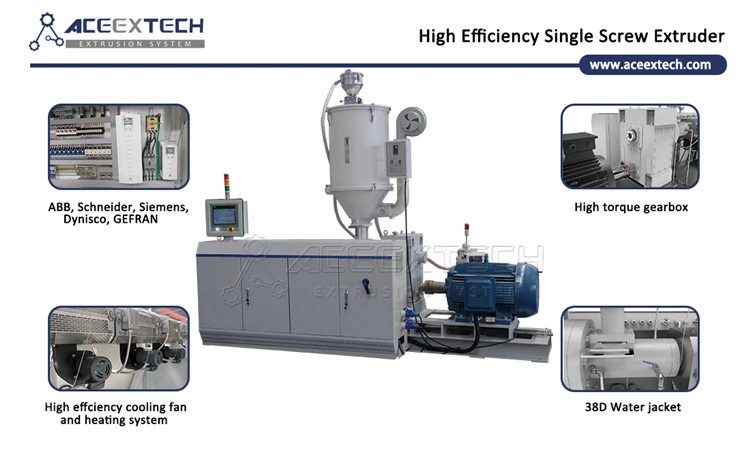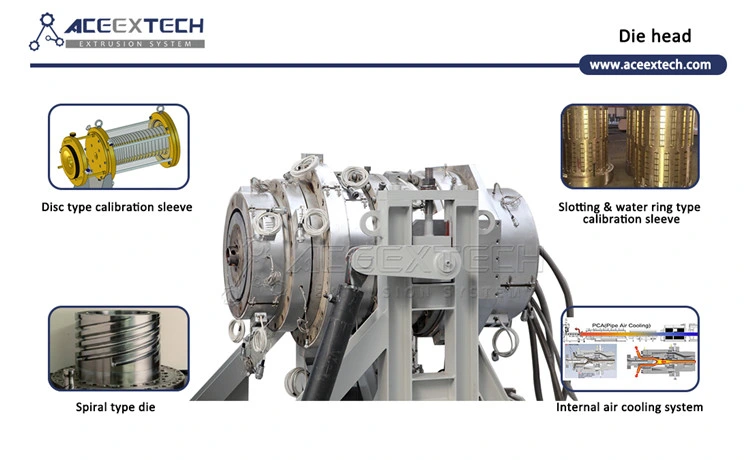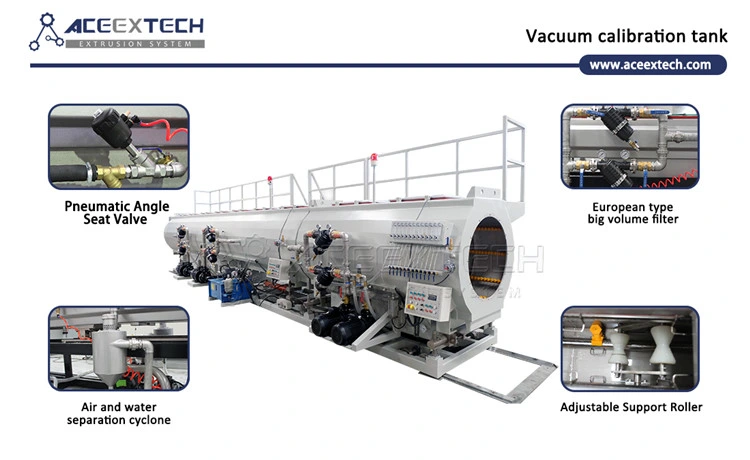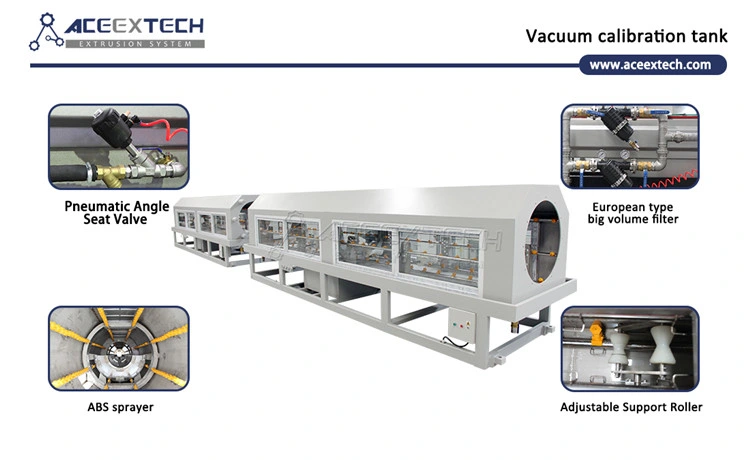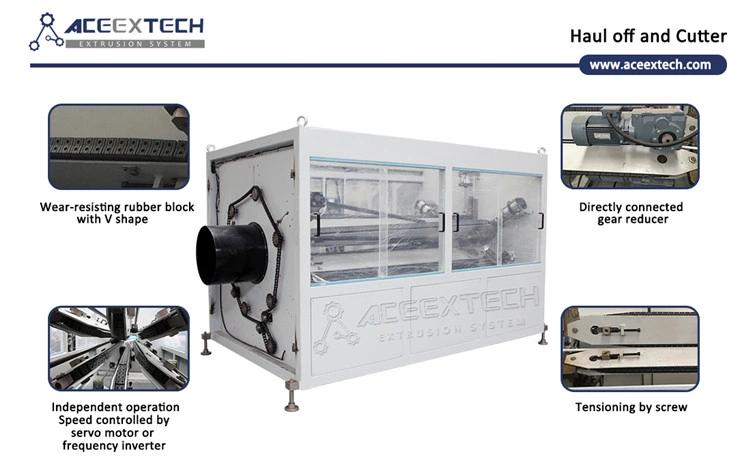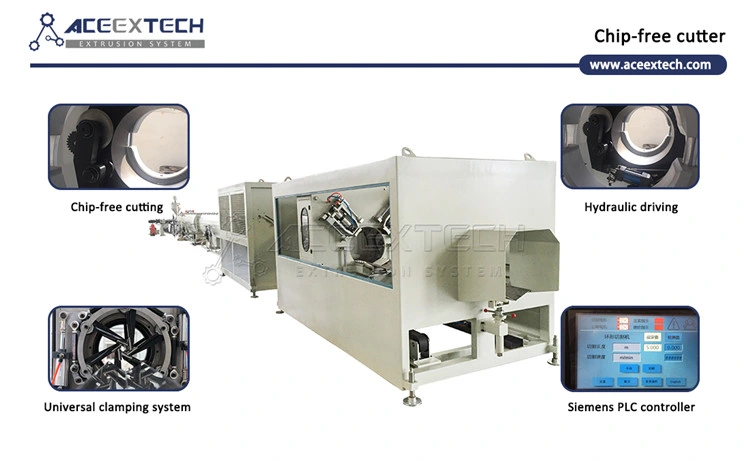 Technical Parameter
:
Diameter range(mm)

Extruder model

Max. Capacity(kg/h)

Max. lineal speed(m/min)

Extruder power(KW)

Ф20-63

ASS65/33

220

12

55

Ф20-63

ASE60/38

460

30

110

Ф20-63 Dual

ASE60/38

460

15×2

110

Ф20-110

ASS65/33

220

12

55

Ф20-110

ASE60/38

460

30

110

Ф20-160

ASE60/38

460

15

110

Ф50-250

ASE75/38

600

12

160

Ф110-450

ASE90/38

850

8

250

Ф250-630

ASE90/38

1,050

4

280

Ф500-800

ASE 120/38

1,300

2

315

Ф710-1200

ASE120/38

1,450

1

355

Ф1000-1600

ASE90/38




ASE90/38

1,900

0.6

280




280
Main components:
-
Motor:
Siemens, WEG, SEW
-
Gear reducer:
SEW, FALK
-
Bearing:
SKF, FAG, NSK
-
Air cylinder:
Festo, SMC, AirTac
-
PLC interface and module:
Siemens, Schneider, Beckhoff
-
Frequency inverter:
ABB, Schneider, Siemens
-
Servo motor:
Lenze, Delta
-
Pressure sensor:
Dynisco, Gefran
-
Low voltage component:
Siemens, Schneider, Omron, LS
-
Temperature controller:
Omron, RKC
-
Solid state relay:
Crydom, Celduc
Main Extruder 3D details
:
A, Long groove between feed throat and screw to improve output highly
B
. Accurate temperature control system on feed section to match different plastics
C
. Unique screw design to achieve higher plasticizing and products quality
D
. Gearbox of high torsion balance to realize stable running
E
. H shape frame to decrease vibrating
F
. PLC (Simatic Multi Panel) operation panel to ensure synchronization
G
. Energy conservation, easy to maintenance
About ACEEXTECH:
ACEEXTECH is a creative company, focusing on R & D of plastic extrusion system, and providing the equipments and solutions for plastic pipe, profile, tile, sheet and board.
ACEEXTECH products fulfill the needs of users in a very direct way due to over 25 years of knowledge and experience in plastic extrusion field, which also helps us to contribute actively to the success of customers by offering sustainable solutions that meet industry needs.
ACEEXTECH offers a complete portfolio of support and consulting services all the time, from project engineering to custom financing solutions, after sales service at its best, ongoing production optimization, training and advisory services, even end product development.
Why ACEEXTECH:
-
Specialized R & D team involved in plastic extrusion industries over 25years.
-
Ability to provide the customized plastic extrusion solutions.
-
Complete sales system covering the pre-sales, sales and after-sales service jobs.
-
Professional sales team with local language speaking ability for English, Portuguese, Spanish, Turkish and Russian markets.
ACEEXTECH'S service:
-
Pre-sale: we give our client the detailed technician offer, Layout design, Water/electricity/gas arrangement. Product simple marketing analyze, other necessary guidance
-
In-sales: we supply the details layout, installation instruction, and technician support for the clients.
-
After sales: we arrange engineer to install the machine and train the workers for our client.
-
We have 24 hours service line to solve the after sales problem.
-
We have free spare parts with the machine.
-
We supply long term spare parts for every customer.
-
We always update the new technology to every customer.
Inquiry to ACEEXTECH:
In order to match your requirement and provide you a proper quotation, please advise:
-
How many layers
?
- What is the layers ratio if mutil-layers design?
- Pipe diameter and thickness
scarification;
- Application of final product;
- C
apacity
requirement in kg or meter.
Contact to ACEEXTECH:
JIANGSU ACEEXTECH MACHINERY CO., LTD
Tel:
+86-512 58620105
Fax:
+86-512 58620107
Mobile/hatsApp:
+86-13915722488
Website:
aceextech.en.made-in-china.com
Add:
No.
7 Jiulong industry park
Jin
feng Town Zhangjiagang Jiangsu China
, 215628